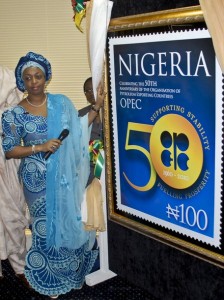 Ahead of the 50th anniversary of the Organization of the Petroleum Exporting Countries (OPEC), Nigeria's Minister of Petroleum Resources, Mrs Diezani Alison-Madueke, started the celebrations of the Organization's Golden Jubilee with the launch of commemorative postage stamps.
Alison-Madueke said the commemorative stamp was one of the events mapped out by the OPEC Secretariat for all member countries to kick-start the 50th anniversary celebrations which will come to a climax in September in Vienna, Austria.
The minister who gave a brief history of OPEC said the organization was worth celebrating for living up to its mandate of stabilizing prices in the international oil market, adding that the objectives of forming the organization are still as relevant today as they were half a century ago.
Alison-Madueke listed other activities lined up for the OPEC anniversary celebrations in Nigeria to include a workshop on energy reporting for media practitioners, a novelty football match between oil and gas industry executives and energy editors.
It will also feature a concert to showcase contemporary folk, classical and neo-classical Nigerian music in keeping with OPEC's agenda of promoting the rich cultural diversity of member countries.
Meanwhile, President Goodluck Jonathan has also unveiled the Countdown Clock to mark the countdown to Nigeria's Golden Jubilee celebrations.
The President said the ceremony symbolically commences a 50-day national countdown to October 1, national day and golden jubilee anniversary.
He directed that the count-down clocks be placed at strategic places across the country as constant reminders to all and sundry of the forthcoming anniversary.
"Nigeria has a glorious day worthy of celebrations. Our golden jubilee should arouse in us all renewed hope and enduring faith in Nigeria," he said.
_______________________________
Get your news stories and articles published on the best platform.  Email:  [email protected] |  [email protected]