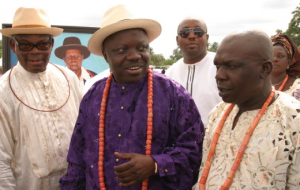 A governorship poll to be staged next week in a southern oil state will be "a test" of Nigeria's readiness for the general elections in April, the electoral agency chief said on Friday.
A fresh gubernatorial election has been ordered to be held on January 6 in Delta State following a court ruling which deposed Emmanuel Uduaghan who had governed the key oil producing state since May 2007.
"We know it (the January 6 poll) is a test case. It will be the first election we are organising since we came into office," Attahiru Jega, chairman of the electoral agency said.
President Goodluck Jonathan has pledged to organise credible elections in a country whose electoral history is tainted with violence and fraudulent balloting.
He appointed Jega in June after sacking the former electoral agency boss Maurice Iwu who was blamed for the flawed 2007 elections.
Oil-rich Nigeria, Africa's most populous country with 150 million people, also ranked as one of the most corrupt countries in the world, goes to elections in April to pick a president, governors and lawmakers.
-AFP