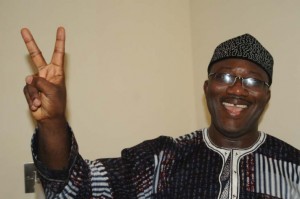 A Nigerian court on Friday annulled the election of the governor of the southwestern state of Ekiti and installed his rival, nearly four years after the vote was held and just months ahead of fresh polls.
The opposition Action Congress of Nigeria (ACN) said the court declared its candidate Kayode Fayemi the rightful governor after sacking Segun Oni of the ruling People's Democratic Party (PDP), who was originally declared winner of the 2007 polls.
"I can confirm to you that we have won the appeal and the court has declared Fayemi the governor of Ekiti state," Mohammed said by telephone from Ilorin, capital of central Kwara state where the court hearings took place.
Nigeria is preparing for presidential, parliamentary and state governorship elections — including in Ekiti — next April and is hoping to avoid the chaos of the 2007 polls, which were so marred by intimidation, vote-rigging and ballot-stuffing they were declared not credible by observers.
The confusion led to months — and in the case of Ekiti, years — of legal wrangling.
Oni is one of around a dozen PDP candidates who were declared winners of state governorship polls in 2007 but whose victories were later annulled by the courts. Many of the PDP candidates then went on to win re-runs.
Fayemi had previously won his challenge against Oni at a lower court, but rather than declare him winner, it ordered a re-run of the vote in some districts. The results again showed that Fayemi lost, prompting him to launch the appeal.