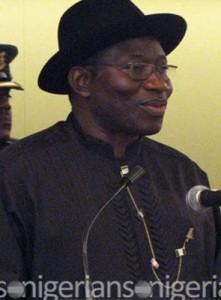 President Jonathan remarks:
1. Let me begin by expressing gratitude to the Almighty for making it possible for us all to witness the swearing-in of the new Independent National Electoral Commission team. With the Senate's gracious confirmation of my nomination of Professor Attahiru Jega and the other distinguished members of the team, we have advanced one more step in our quest for credible elections.
2. Often, trust is the beginning of success. In this light, I must thank Nigerians for the almost unanimous endorsement of our choice of INEC leadership. We however noted that there were some complaints against some of our nominees who were perceived to have played major roles in electioneering politics in our country. Being a listening government, we had to drop such nominees. Their replacement would be presented to the Senate in a not too distant time.
3. May I also express my immense gratitude to the Senate for the expeditious clearance given to our nominees. This once again marks out our distinguished Senators as partners in progress; and as men and women eager as the rest of us to conclusively set our nation on a path of progress.
4. I was convinced, and I still am, of the compelling need to institute a robust electoral process and ensure that the process is overseen and managed by men and women of integrity. The nominees being sworn in today were selected with this goal in mind.
5. I therefore expect Professor Jega and his able team to meet the high standards that Nigerians and the rest of the world expect of them. This assignment is one of the most important jobs in our country and our citizens are keenly interested in its outcome. It is true that legitimacy is one of the fundamental building blocks that compel governments to accountability. To be accountable, elected officials must emerge through a process that is free, fair and transparent. Most Nigerians believe that our difficult electoral history is the reason for our underdevelopment and lack of confidence in those who govern. We must therefore begin to repudiate this arbitrariness, and there is no better time to start than now.
6. On assumption of office in May 2007, we publicly acknowledged the shortcomings in the nation's electoral processes and initiated vital reforms to correct this more than five decades old problem. Fellow Nigerians, we are now on our way to a new beginning.
7. The success or failure of the reconstituted INEC rests upon all of us. We must act with responsibility towards INEC, in order to retain the trust reposed in us by the Nigerian people. Rules and regulations must be obeyed and electoral misconduct shall not be tolerated irrespective of status or party affiliation. As the saying goes, we are all equal before the law.
8. We must therefore approach the coming elections with confidence and faith while maintaining constant vigilance. As we strive to strengthen the foundations of our democracy, we must rise in defence of our electoral process and insist that every vote must count.
10. Mr. Chairman and members of INEC, I urge you to seize the moment and do our country proud in our collective pursuit of good governance and justice.
11. I congratulate you all and thank you for accepting to serve our motherland.
12. May God Almighty bless the Federal Republic of Nigeria.
See related video: President Jonathan promises o sanitize the electoral system