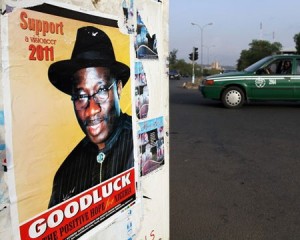 Campaign posters endorsing Acting President Goodluck Jonathan for the 2011 presidential election have gone up at strategic points in the capital city Abuja, residents said on Saturday.
Jonathan, who was voted into office by parliament in February after President Umaru Yar'Adua left the country to be treated for a heart ailment, is yet to make known his plan for next year's polls.
"Support a visionary in 2011" and "Goodluck is the positive hope for Nigeria," are the inscriptions on the posters, sponsored by an unknown group calling itself the "Northern Youth Movement for Positive Change".
Officials in Jonathan's office said that they were not aware of the posters, seen by an AFP reporter.
Jonathan was Yar'Adua's deputy from May 2007 until he took power.
A former governor of southern Bayelsa State, he is the first person originating from the oil-rich Niger Delta to have risen to the position of Nigerian president.
However his ruling Peoples Democratic Party said recently that the party's flagbearer for the 2011 poll will be a northerner.