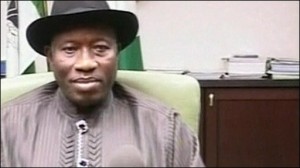 Address to the Nation by His Excellency, Dr Goodluck Ebele Jonathan, GCON, President, Commander-in-Chief of the Armed Forces, Federal Republic of Nigeria at the occasion of Nigeria's Democracy Day Celebration, May 29, 2010
My dear country men and women!
Today marks another important milestone in our nation's political history as we commemorate our Democracy Day. The significance of our celebration today lies in the fact that we are able as a nation to look at the journey which we have made so far, and set for ourselves a worthy course for the days ahead.
An occasion such as this should naturally therefore provoke wider reflection on our democratic enterprise. It is indeed a golden opportunity for introspection as well as retrospection on our chequered journey to the democratic Promised Land. This year being the 50th anniversary of our national independence will surely record more of this interrogation of our past as we earnestly look into the future with boldness and optimism.
During the last century, the anti-colonial struggle was the greatest issue of democracy and justice universally.
Our founding fathers discharged their historic responsibility by fighting and winning our national freedom. Today therefore, is a day to appreciate our resilience, our patriotism, and our faith in this Land of our common destiny. It is a day to remember, as our national anthem clearly instructs us "the labour of our heroes' past". So, when we reflect on democracy, we remember the struggles of our great nationalists. We remember the Herbert Macaulays, the Nnamdi Azikiwes, the Obafemi Awolowos, the Ahmadu Bellos, the Ernest Ikolis, the Aminu Kanos, the Margret Ekpos, the Gambo Sawabas and our living legend, Anthony Enahoro. We, of course, remember all the vibrant and youthful members of the Zikist Movement!
The second wave of the struggle for democracy was to put an end to military rule that paved the way for this dispensation that began on May 29, 1999. It is in this spirit that we remember the great sacrifices made by Nigerian patriots, some of who paid the supreme sacrifice. We salute the illustrious memories of the M. K. O. Abiolas, the Shehu Musa Yar'Aduas, the Alfred Rewanes and the Gani Fawehinmis. The sacrifices that our compatriots living and dead have made to enthrone democracy should compel us to take our democratic enterprise more seriously and with greater vigilance. We must work to ensure that by the supreme sacrifices of these great heroes, it should no longer be necessary for the tree of freedom to be watered by the blood of yet more martyrs.
It is for this and many other reasons that our challenge in furtherance of democracy as a nation is to conduct credible elections in which every voter will only be entitled to a vote and every vote will count. We must develop a democratic culture in which the will of the people will be treated as sacred and be immune to subversion by anti-democratic elements. That is why the consummation of the process of electoral reform is a collective task that must be done this year.
In this regard, we must continue to encourage the National Assembly so that they can finish the good work already begun and in good time. It is also part of the democratic challenge before us that we must build our institutions of democracy- the legislature, the judiciary, the civil society, the media and others. The armed forces, security agencies and law enforcement organisations must continue to be re-oriented in tune with this democratic culture. The supremacy of the constitution should always be defended by all regardless of divergence of interests. Opposing views should always be tolerated and the culture of unfettered national debates should be reinvigorated as we collectively seek solutions to our problems. It is when we do all the foregoing and much more that we can truly say that the nation is consolidating the gains of democracy and that our democratic enterprise is yielding acceptable dividends.
For our democracy to be virile, it must be genuinely competitive and strictly rule-based. Therefore, our political parties should be developed as vital institutions of democracy. We run a multi-party system and the parties should be fair competitors while performing their constitutional functions. However, for the parties to be relevant in the nation's democratic enterprise, it is compulsory that a regime of internal party democracy must prevail in the parties. It is the political parties that are imbued with democratic spirit that would deepen the practice of democracy in our land.
As we march faithfully and boldly on this journey, we must remind ourselves that it is not going to be easy. Democracy calls for sacrifice and tolerance, an open ear and a strong voice. Democracy requires constant nurturing and eternal vigilance. Democracy gives no room to lethargy. As we strive to advance our democratic development, there will be times when our will shall be tested, our patience provoked and our belief questioned. We must on those occasions remain resolute.
The beauty of democracy is that its practice is never final and always has room for improvement no matter how old a democratic society may be. Where we falter we must not fall. When we are weak, we must not surrender. The conduct of the affairs of government in policy, legislation, decision-making and execution, and the choices we make over who conducts these processes keep transforming in democratic societies.
Thus democracy is not only about elections but also about the degree of popular participation in daily governance as well as individual and group freedoms and liberties, including the freedom of association, right to practice a chosen religion and equal protection under the law. Democracy should give us all the confidence we need as a people to conduct our personal and business affairs, assured that we are protected under the constitution of Nigeria regardless of what part of the country we reside and regardless of our religious or ethnic affiliation.
Our first responsibility as citizens is to use the ballot. For us servants in government, it is our responsibility to ensure that all qualified citizens have access to the ballot and that all votes count. Let me once again assure all Nigerians that this time, under my watch, all votes will count. It is my sacred duty to ensure that you are able to vote and that your votes count.
It is important to note that electoral integrity is not only about electoral reforms and legal and constitutional changes but also about changes in attitude and conduct. Above all, it is about exemplary leadership and principled followership. I am convinced that Nigeria will attain electoral integrity in 2011 and beyond.
My dear compatriots, we have to win for our children democratic freedoms that guarantee economic and social dividends that in turn engender and strengthen our nationhood.
Let it be said by the generation that is to come that we unified this country and consolidated our democracy.
Finally, this Democracy Day Celebration will not be complete if I do not touch on workers' welfare. It is well known that this Administration has never abdicated its responsibility to the Nigerian worker. Indeed, we support the right of every worker to earn a living wage for addressing basic necessities of life. You will recall that at the last May Day Celebration, we assured workers that we will address the problems of distortions in pay relativity in the Public Service. This has now been resolved positively. The new salary scale shall take effect from July 1, 2010.
Also, in our resolve to address the housing challenge of civil servants, Government has approved the release of the sum of N10 Billion to the Federal Government Staff Housing Loans Board (FGSHLB) for onward disbursement to eligible civil servants as loans to enable them own their own houses.
Let me therefore charge workers to reciprocate Government's gesture by increasing their productivity levels and shunning acts capable of undermining the Development Agenda of Government, knowing fully well that they are drivers of the Administration's policies. Their conduct and productivity shall henceforth be guided by performance management and the operational guidelines that are expected to be concluded not later than December 31, 2010.
I wish all Nigerians a happy Democracy Day. May God bless our beloved country.