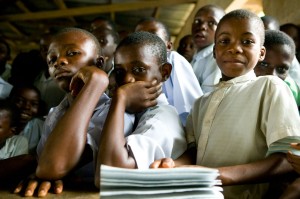 By Omo'ba Olumide Idowu
This piece is influenced by a close relative based in Maryland, USA and the damage that our collective silence wields on access to quality education in Nigeria.
My relative who has not been home for sometime called on June 12 to felicitate with me on my birthday, which falls on a date very few Nigerians, can forget. Beyond felicitations he expressed interest in the welfare of my immediate family. Being more familiar with my first son, he wanted to know how Pelumi was faring in his studies and coping with the responsibility of being man of the house when I'm not at home. I responded that Pelumi was fine and added with the tinge of a proud father that he is doing very well in his academics, considering his achievements relative to his age. I told him he'll be ten (10) later this year and was currently preparing to gain admission into a secondary school in September.
My Yankee relative was shocked that I was considering private and not public school for my son. He affirmed that all his children in the States are attending public schools and claims not to have any regret about his decision. He capped his disdain by accusing me of not giving my son the great opportunity I had in passing through a well run and managed heritage public school such as Birch Freeman High School, Surulere. His passing shot was that if he turned out fine and I equally have no regret about attending a public school, he is lost on why this standard will no longer suffice for my son.
His reaction provided opportunity to lampoon his long absence from Nigeria and most importantly his grave disconnect from the reality of what public education has become in the country. With initial air of arrogance, I cautioned that he'll not wish the son of his worst enemy the plight of attending a public school in any part of Nigeria. I progressed by affirming that public schools at primary and secondary levels now only qualify as an option for people who place low or no premium on quality education or are too challenged financially to afford the fees of most private schools. The option of public school is even made more unpopular by the fact that nobody in my social network has any child in one.
Furthermore, children of public office holders (including those who superintend over the educational sector) and teachers do not see public schools as a first option. Though no empiric research exists to confirm this assertion, it is common knowledge that most public office holders and professional teachers now prefer to send their wards to private schools at least at pre and post primary levels. At this stage he screamed and asked me to confirm that I was not exaggerating the facts to rubbish his advocacy for public schools.
Strangely, our conversation changed to a unidirectional discuss when he said it was immoral for any public office holder or teacher in a public school at whatever level to enroll his or her child in a private school. He fumed that any public office holder whose child schools in a private school should resign his appointment out of shame, and teachers dismissed without benefits. Still incensed he said he does not foresee any hope of improvement in standard of public education, if people responsible for upholding its relevance continue to destroy it with ignominy.
As much as I regaled in being able to convince my relative on the justification of sending my son to a private school, I will confess that a strange sense of guilt descended on me after we rounded off our conversation. My guilt was informed by the selfish and disinterested stance of people in my social network with the rot in public schools.
Beyond the misplaced comfort of being able to afford steep school fees, middle class professionals like me have the misguided notion that private schools provide the opportunity of planting our children in the right social network whilst unknowingly widening the gap among the next generation of Nigerians.
The uninformed need to express social status through the choice of private school that one's child attends is made more laughable by the deliberate classification that now exists among private schools particularly in Lagos. As much as I claim that my son is in a private school I will be honest enough to admit that the school will never make the A, B, list of "ivy league" schools in Lagos.
Beyond doubt my generation and people in my ilk are guilty of creating unintended social dislocation that public education helped to bridge in the days of my father and I. With so much pride I recall being in the same class in secondary school with the son of a Merchant Bank Chief Executive. I am sure it would be interpreted as a misnomer now for any of the children of a Bank CEO to attend a public school such as the one I passed out from in 1987. It is instructive to mention that Governor Babatunde Raji Fashola (SAN) who remains a reference nationally as an ideal definition for inspiring and visionary leadership passed out from the same secondary school I attended.
Though I am proud to have attended the same secondary school with Governor Fashola, I'll be honest enough to confess that I'll never allow any of my children to attend my old school in its current physical and environmental (dilapidated class rooms devoid of basic facilities such as a library, playground, standard laboratory and a befitting hall) state.
Omo'ba Olumide Idowu is a Senior Advertising Practitioner and Lagos based public commentator.
For  the complete article, get your copy of Nigerians Abroad magazine independence issue