The United Continental merger has been formally announced on Monday, May 3. The recent Continental United deal will create the world's largest airline in terms of passengers and market share. The boards of both companies approved the all-stock transaction Sunday afternoon.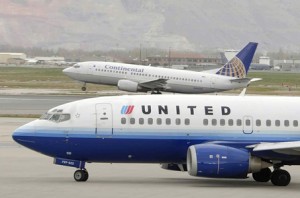 The merger will also make up seven per cent of the global capacity, even ahead of Delta which is the current leader with 6 per cent. United is currently the fourth largest domestic airline by capacity and Continental the sixth. The combined company has decided to  keep the United name but will feature the Continental logo and will be based in United's hometown of Chicago. The merger proposal though approved unanimously by both boards still needs shareholder and regulatory approvals. The airlines expect the deal to be over by the end of 2010.
Continental and the Chicago-based United have earlier come very close to a merger in 2008, but their talks were suspended when Continental chose to pursue an alliance instead.The airline industry, which struggles with high fuel prices and a pullback in consumer consumption due to a weak economy, has lost around  $ 50 billion in the past decade. This merger however is expected to generate a positive cash flow.