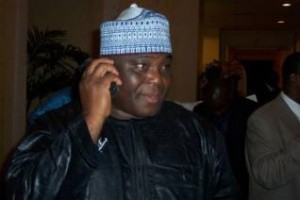 Nigerian media mogul filed a lawsuit Tuesday against the nation's secret police, accusing investigators of smearing his name by arresting him over his alleged involvement in deadly car bombings that struck the capital.
The lawsuit by Raymond Dokpesi, the owner of the Africa Independent Television network, carries considerable political weight in the oil-rich nation. Dokpesi serves as presidential campaign manager for former military dictator Ibrahim Babangida, the main opponent President Goodluck Jonathan now faces in the ruling party's coming primary election.
Dokpesi's suit seeks more than $666,000 from the nation's secretive State Security Service, as well as an order from a judge stopping the agency from harassing and arresting him. Dokpesi's lawsuit asks the federal high court to clear his name from involvement in the bombings that killed at least 12 people during an Oct. 1 celebration marking Nigeria's 50th anniversary of independence from Britain.
The arrest was "an unlawful and unwarranted infringement by the respondent of the applicant's right to freedom of movement, personal liberty and human dignity," the lawsuit reads. It goes on to call the accusations against Dokpesi "false, malicious and baseless."
The car bombings struck Abuja, Nigeria's capital, only about a 10-minute walk from where Jonathan and other dignitaries attended a celebration and parade. The Movement for the Emancipation of the Niger Delta, Nigeria's main militant group in its oil-rich and restive southern delta, immediately claimed responsibility for the attacks. It said the blasts came because the government had done nothing to end the unceasing poverty in the delta as the nation receives billions of dollars from oil revenue.
The secret police arrested Dokpesi on Oct. 4, with government officials telling The Associated Press at the time that there were "clear links" between him and the bombers. The police released Dokpesi roughly 12 hours later.
State Security Service spokeswoman Marilyn Ogar could not be immediately reached for comment Tuesday. Henry Okah, a former leader of the delta militant group and an alleged gunrunner, faces terrorism charges in South Africa over his alleged involvement in the bombing. Okah's lawyers have said their client is innocent.
Dokpesi's arrest led to many questioning whether Jonathan hoped to connect Babangida to the bombing to tarnish his chances in the upcoming People's Democratic Party primary. An unwritten rule in the party calls for its presidential candidates to rotate between the country's Christian south and Muslim north.
Jonathan, a Christian from the south, became president May 6 after the death of the long-ailing Umaru Yar'Adua, a Muslim northern. Babangida is among several candidates from the Muslim north hoping to sway electors' support to keep the rotation intact, as Yar'Adua would have been due one more four-year term.
-AP