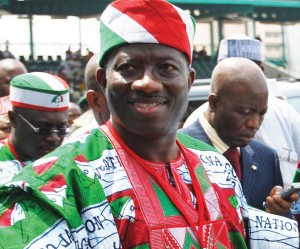 A Nigerian court dismissed a lawsuit to stop President Goodluck Jonathan from seeking the ruling party's nomination for president, saying no party rules have been breached.
Judge Ishaq Bello of the Abuja High Court said the suit by three members of the ruling People's Democratic Party alleging that Jonathan's candidacy breached party rules was premature. Only aspirants in the primaries have a right to file a suit if they disagree with the result, he said.
Jonathan became president of Nigeria, Africa's top oil producer and most populous nation, when Umaru Yar'Adua, a northern Muslim, died on May 5, three years into his first term. As a southern Christian, Jonathan's candidacy is contrary to an unwritten party rule to rotate the top office between the mainly Muslim north and the predominantly Christian south for two four- year terms.
Jonathan's decision to contest in the April election has pitched him against a group of northern politicians who insist on the rotation and are backing former Vice President Atiku Abubakar.
"By this judgment, the coast is now clear for President Goodluck Jonathan to proceed to the primaries," Alex Izinyon, his lawyer told reporters after the ruling in Abuja, the capital.
The PDP will nominate its presidential candidate at a primary scheduled for Jan. 13 in Abuja. Political parties have until Jan. 15 to nominate their candidates for various political offices, according to the election schedule released by the Independent National Electoral Commission on Nov. 23.
The case is Yahaya Kwande v. People's Democratic Party and three others, FCT/HC/CV/369/2010, High Court of Justice, Abuja Judicial Division (Abuja).
-Bloomberg