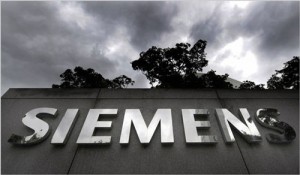 The Economic and Financial Crimes Commission (EFCC) has written to the Attorney General of the Federation to request a copy from the German authorities of the sentence by a Munich court, which found two former Siemens managers guilty of bribery to obtain telecommunications contracts in Nigeria.
EFCC Chairperson Farida Waziri in Abuja said that the Certified Copy (CTC) of the judgement will help the agency to know "for sure who and who got what. We have a list and we have obtained recorded statements from those that their names appeared. We would know who played what role in what."
Nigeria and Germany have a Mutual Legal Assistance Treaty (MLAT) and the Attorney General of the Federation (AGF) and Minister of Justice Mohammed Adoke is entitled to request a copy of the ruling based on the agreement.
Ms. Waziri said the case which was originally handled by the Independent Corrupt Practices and other related offenses Commission (ICPC) was underway and the agency had already interviewed four former ministers in this regard.
In a ruling issued by Joachim Eckert on 20 April in Munich, Michael Kutschenreuter, former chief financial officer of Siemens telecommunications unit and the highest-ranking executive was put on probation for two years with a fine of 160,000 euros. A second accused, former chief accountant at the telecommunications unit of Siemens, was placed on probation for a year and a half and fined 40,000 euros.
Kutschenreuter acknowledged that he concealed bribes paid by Siemens employees. According to prosecutors, the funds were used to bribe government officials and business contacts to get telecommunications contracts in Russia and Nigeria.
Siemens has identified about 1.3 billion Euros in questionable payments that changed hands between 2000 and 2006. The case has cost the company about 2.5 billion in fines, back taxes and investigations.