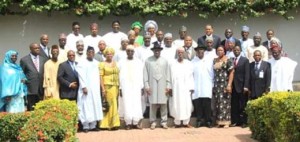 President Goodluck Jonathan will reshuffle his cabinet in the coming days, less than six months ahead of presidential and parliamentary elections, presidency sources said on Thursday.
The shake-up at the top of Africa's most populous nation is likely to be relatively minor, involving only a few ministries, but three new names will be added to the cabinet team, the sources said, asking not to be named.
Senate spokesman Ayogu Eze told Reuters the upper house would confirm three new ministerial nominees forwarded by the president when it meets on Tuesday, but gave no further details.
"Some ministers will be swapped while one or two may be removed and replaced," one of the presidency sources said.
Jonathan has not yet said whether he will stand in elections due in January, but many Nigerians expect him to do so.
As a southerner a presidential bid would be controversial as there is an unwritten agreement within ruling party dictates that the next president should be a northerner.
A reshuffle at this stage in his administration could be an attempt to better position himself for such a bid by placating potential northern opponents with the redistribution of ministries.
Nigeria's This Day newspaper said a "female minister occupying an economically strategic portfolio" had been pencilled in for transfer to another ministry, but did not identify its sources and gave no further details.
Nigeria's most prominent female minister is Oil Minister Deziani Allison-Madueke, who is currently trying to steer through parliament wide-ranging legislation to overhaul the oil and gas industry.
The sources said Minister of State for Finance Remi Babalola may also be moved. Babalola stirred controversy last month by declaring state oil firm NNPC insolvent, a statement which was then publicly shot down by three cabinet colleagues.
Reuters