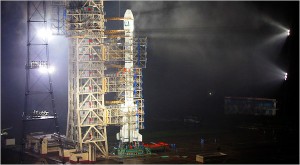 Nigeria's failed satellite, NigeriaSat-1, which disappeared from orbit in 2008 after its launch in 2003, it to be re-launched next year, Vice President Namadi Sambo has assured.
Sambo spoke on Friday at the opening of the Third Ordinary Session of the African Union's Communication and Information Technologies' Ministerial Conference in Abuja.
He said the re-launch followed a successful solution to the initial problems experienced by the satellite.
Sambo noted that investment in ICT in the country increased from $50 million in 2000 to more than $12 billion currently.
He also observed that there had been a phenomenal increase in tele-density in Nigeria while the investment in ICT had promoted business and services in the sector.
He commended the conference for its past achievements and urged participants to use the platform provided by the Abuja session to brainstorm on ICT development in Africa.
The Vice President also said that the challenges of security and e-commerce required the development of broadband in order to combat cyber crime.
In her welcome address, Prof. Dora Akunyili, the Minister of Information and Communications, said the Federal Government was vigorously  pursuing rural telephony in the country.
She noted the importance of ICT development, urging Africa to use it as a platform for socio-economic development.
Akunyili observed that the spread of telephony since the advent of GSM in the country had increased its tele-density.
She said Nigeria's airtime usage was 100 times more than that of the developed countries because of the culture of being our brothers' keepers.
The Minister explained that most Nigerians opened the line of communication on the phone with greetings while in the developed countries, telephone communication was more business-like.
The News Agency of Nigeria (NAN) reports that on Sept. 26, 2003, Nigeria launched its $13million national satellite in Plesetsk, Russia, under a seven-nation constellation being handled by a Russian firm, COSMOS.
NigeriaSat-1 is a low-earth orbit micro satellite for disaster monitoring looking spacecraft, with a five-year target design lifespan orbit of 700 km.
It is the country's contribution to the international Disaster Monitoring Constellation (DMC) which is an earth-observing micro satellite.
The DMC is a number of remote-sensing satellite which provides emergency earth imaging for disaster relief. The earth observing micro satellite has a high mobility due to its compactness and small mass, essential for observing weather phenomenon.
News Agency of Nigeria