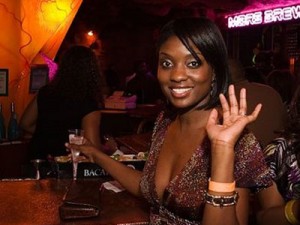 Lola Ogunnaike (born September 13, 1975) is an American features and entertainment journalist of Nigerian origin. She most recently appeared as the entertainment correspondent on CNN's morning program, American Morning. Ogunnaike has also made regular guest appearances on NBC's Today Show, MTV and VH1. In May 2007, she was named one of Ebony magazine's "150 Most Influential Blacks in America."
Ogunnaike received her master's in fine arts degree in journalism from New York University and a bachelor's degree in English literature from the University of Virginia
Ogunnaike has been covering entertainment news since 1999. Most recently, Ogunnaike reported on pop culture and entertainment news as part of American Morning's daily news coverage. Ogunnaike worked at CNN from May 2007 until early 2009.
Prior to joining CNN, Ogunnaike was a reporter for The New York Times and spearheaded its entertainment coverage, writing profiles of celebrities like Jennifer Lopez, Oprah Winfrey and Sting for the paper's "Arts and Leisure" section.
Before that, she was a features reporter at the New York Daily News, where she covered breaking news on celebrities and entertainment for "NOW," the paper's entertainment section, and for the Rush and Molloy column. Previously, Ogunnaike was a contributing writer for Vibe magazine, where she was responsible for monthly music features and cover stories. She has also had her work published in Rolling Stone, New York, Glamour, Details (magazine), Nylon, the New York Observer and V Magazine.
WIKI