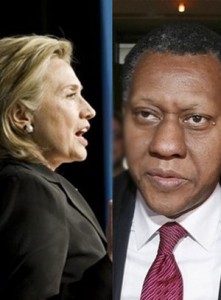 U.S. Secretary of State Hilary Clinton and  Nigeria's Minister of Foreign Affairs, Mr Odein Ajumogobia (SAN), have met in New York to discuss nuclear disarmament and other global issues.
The North America correspondent of the News Agency of Nigeria (NAN) reports that the meeting was held on Monday on the sidelines of the ongoing UN Review Conference on the Nuclear Non-Proliferation Treaty (NPT).
Details were not available, but NAN learnt that the meeting, which lasted for about 25 minutes at the TIAA-CREFF building, centred largely on the NPT.
A diplomatic source told NAN that the U.S. was seeking support of UN member countries to ensure a world free of nuclear weapons, as well as expanded support for peaceful uses of nuclear energy.
The meeting, which took place two hours before Clinton delivered her remarks at the NPT conference, was attended by senior Nigerian diplomats, including the Permanent Representative to the UN, Prof. Joy Ogwu, and the Ambassador to the U.S., Prof. Ade Adefuye.
In her speech, Clinton said Iran's nuclear ambitions posed a risk to the entire world.
She said the U.S. would disclose the number of weapons in its nuclear arsenal to improve transparency in the nuclear disarmament regime and encourage other nations to do the same.
"Beginning today, the U.S. will make public the number of nuclear weapons in our stockpile and the number of weapons we have dismantled since 1991.
"So for those who doubt that the U.S. will do its part on disarmament, this is our record; these are our commitments and they send a clear unmistakable signal," she said.
Later at a press stakeout with UN correspondents, the U.S. Secretary of State said that strengthening the NPT required nations to stand up and be counted as adhering to the rules and regulations set by the International Atomic Energy Agency.
"That is what we are trying to achieve with out partners at the Security Council with respect to Iran's nuclear programme," Clinton said.
She said Iran was the only nation at the NPT review conference which had "violated consistently the obligations it signed up to follow, defied the international community and acted with impunity".
Clinton said the U.S. government was committed to ensuring that states without nuclear weapons did not acquire them, while those with nuclear weapons worked toward eliminating them.
She added that the U.S. government would support the peaceful use of nuclear energy.
President Mahmoud Ahmadinejad of Iran had earlier in his address at the conference accused states with nuclear weapons of threatening those which wanted to develop their peaceful nuclear technology.
His speech triggered a walkout by representatives of the U.S., UK, France, Germany, Italy, the Netherlands, New Zealand, Hungary and a handful of other countries, excluding Nigeria.
NEWS AGENCY OF NIGERIA