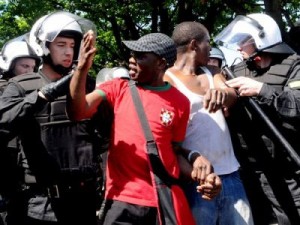 THE House of Representatives Committee on Diaspora on Tuesday condemned the killing of a Nigerian in Poland.
Committee  chairman, Honourable Abike Dabiri-Erewa, in a statement issued in Abuja, expressed the concerns of the committee over the incident. She says " the committee  condemns the inhuman treatment of Nigerian citizens and called for a full scale investigation into the remote and immediate causes of the death.
"This is another pathetic treatment. We need a holistic look at these incessant cases. The last time it was in Switzerland, the ambassador apologised and that was the end of it."
A Nigerian man died of a gunshot wound following a scuffle between police and a mob angry over his arrest in a market place near the new sports stadium in the capital Warsaw Sunday.
"Although the circumstances of the killing are sketchy, the ministry strongly believes that there can be no justification for this wanton killing of a Nigerian citizen," Nigeria's foreign ministry said in a statement.
"The ministry calls for an immediate and full inquiry into the shooting to death of its citizen and the reported harassment of many other Nigerians resident in Poland," it said.
Polish police spokesman Mariusz Sokolowski said the Warsaw prosecutors' office was investigating an assault on a policeman and, separately, whether the police officer had broken the law by firing his gun.
He said market vendors threw rocks and paving stones at police officers, destroying four police cars, after the Nigerian was handcuffed during routine checks on market traders.
"During this tussle the Nigerian man was shot in the leg. We don't know if the shot was fired on purpose or by accident during the fighting," Sokolowski said. "We assume it was in self-defense, but the prosecutors are checking this."
He said police officers had tried to stop the Nigerian man bleeding while waiting for an ambulance but they were prevented from doing so because they were still under attack. Thirty-two people, mostly foreigners, were arrested in the fracas.
REF: Reuters