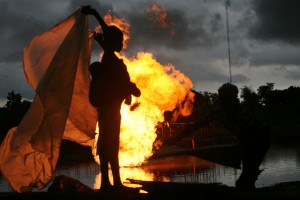 Two explosions were heard in Nigeria's capital on Friday near a parade of top government and foreign officials marking the 50th anniversary of independence, a Reuters Television witness said.
The blasts came about an hour after Nigeria's MEND rebel guerrilla group issued an email bomb warning, saying it had planted several devices at the parade and telling people to evacuate.
The Reuters cameraman said security forces and firemen had been trying to douse a fire in a vehicle after the first explosion when a second blast hit. People scattered and a young boy was seen being carried away to a nearby vehicle.
In an email warning received by Reuters an hour before the blasts, the Movement for the Emancipation of the Niger Delta, the biggest rebel militia in Africa's most populous nation, said it had planted bombs at the parade ground.
"Several explosive devices have been successfully planted in and around the venue by our operatives working inside the government security services," the email, signed by MEND spokesman Jomo Gbomo, said.
"In evacuating the area, keep a safe distance from vehicles and trash bins."
Broadcast television footage showed no interruptions to the lavish parade of thousands of soldiers and the great and the good of the continent's biggest oil producer.
President Goodluck Jonathan arrived in an armored limousine dressed in his traditional black fedora hat and dark suit, before inspecting massed ranks of soldiers from an open-top jeep.
Jonathan is from the Niger Delta area, and many analysts thought his accession to the presidency earlier this year after the death of president Umaru Yar'Adua would have eased tensions between rebels and central government.
MEND is Nigeria's biggest militant group and has fought for years to obtain a greater share of federal oil revenues for the impoverished Niger Delta.
Although most of its activities have been focused on the creeks and swamps of the delta, it has struck further afield, including at off-shore oil installations and in the heart of Nigeria's commercial capital, Lagos.
MEND guerrillas agreed an amnesty with the military last year although analysts say only a fraction of the rebels' weapons were handed in.
-Reuters