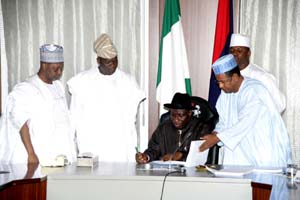 Nigerian President Goodluck Jonathan signed an amended electoral act on Friday that should clear the way for the country's electoral commission to finalize the timetable for presidential and parliamentary polls.
The Independent National Electoral Commission (INEC) warned on Wednesday that uncertainty over the legal framework for next year's polls and funding problems were delaying its efforts to overhaul the voter register and ensure a credible vote.
"(The bill) contains fundamental changes aimed at improving the conduct of elections in our country," Jonathan said after signing the amended act.
The changes include giving INEC more time to finalize the voters' register and bring the electoral act in line with a constitutional amendment passed by parliament last month, which would bring polls forward to January from April.
There is still debate over whether Jonathan must also approve that constitutional amendment.
INEC said it had not yet received a signed copy of the amended electoral act, but has said it would be able to release a timetable for the polls once it did so.
Overhauling the voters' register is vital if Africa's most populous nation is to avoid a repeat of shambolic 2007 polls, whose credibility was undermined by ballot-stuffing and an electoral roll riddled with fictitious names. Finance Minister Olusegun Aganga said an 88 billion naira ($585 million) budget for INEC, approved by parliament last week, had also been released to the commission.
"INEC now has gotten all it needs to do its job," Aganga told reporters following the signing ceremony.
INEC had said delays in receiving the funds were hindering its ability to prepare for the polls.
Reuters