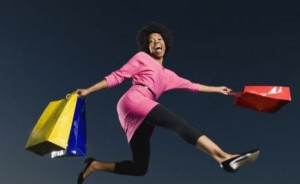 By Edwin Eriata Oribhabor
If there's any item the woman cherishes dearly, it's her handbag. Its number one position in her various fashion collections remains unshaken (kankpe).
When recently I read a story of how a 34-year-old mother left her baby in the care of a waitress at a Cafe as she rushed off in pursuit of another woman who had snatched her handbag, I was not surprised. According to the story, the woman retrieved her handbag after she had run the race of her life like the notorious Canadian sprinter, Ben Johnson.
Women's love for handbags cannot be overemphasized. A gift of handbag to one's wife, sister or a loved one will always be appreciated. Proof of the strategic importance of the handbag in the life of the woman is further attested to by the care and attention she gives to it. A man may buy his wife a handbag, but this does not mean he has the power to stick his hand in it.
Women cuddle their handbags like a mother does her baby. At social events you will see how men battle in vain with their "han bags" just to free them of the burden of carrying them. Not a chance; a woman will clutch their handbag as if there is a talisman inside with the power to make her disappear, jos in kes egbe gas.
Handbags come in different shapes, colours and sizes and their quality varies. You can speculate a lot about the likes and dislikes of a woman from the handbags she usually carries. A handbag can be a barometer for reading the social status of a woman. Bot rememba se tu mosh of eviritin is bad. It is for this reason that one will never support the woman we neva fit chop beleful, bot go de bai han bag we pas im pawa bikos of fashon.
I make sure to register my acknowledgment of a quality handbag whenever I find one. My female colleagues at my place of work appreciate this. Most times, I do take it to the next level by asking them to sho mi hau to get koret bag fo mai waif. One sophisticated handbag usually drives the desire to want to buy more.
With her handbag, a woman derives additional confidence, as without the handbag, the woman will hardly be composed for the day's activities. I once had a female boss who had on two occasions returned back home just to pick up her handbag that she had forgotten
Handbag and han bag are one and the same - meaning a worthy companion. The former is English while the later is Pidgin. If a man attends a social function without a female companion, he may be asked, "wie yo han bag?" Nowadays, men are also addressed in like manner by women. And so, fo anoda levul (in other words), mai han bag means my companion weda na man or na wuman.
For the simple fact that the woman's handbag is a no-go area, women wit long trot and fraudulent tendencies always hide things in it. For example, at a party, some women who are in the habit of doing tek ewe bai fos bai faya are known to come along with denjaros lukin four or five–in-one handbags jos to pak fud an difren difren tins.
Recently I heard that ladies planning to du kwanagida (stay overnight) with their male partners usually go with special handbags, able to hold clothing that could last them for as long as they wanted to stay out. Such bags are called kwanagida bags. The handbags thus play multifunctional roles.
Just like you can speculate on the class and level of sophistication of a woman from the handbag she carries, you could also speak of the woman's level of tidiness. I have come across women who search for one thing or the other in their bags without success, only then, would they manej to alau anoda female to assist. They do this on a daily basis including picking the wrong bag most of the time. "Oh I have taken the wrong bag. What I wanted is in my other bag I left at home", is a common statement you hear from women who are mostly disorganised.
Look around you, han bag ful evri wie looking for men in different places of interest but yo veri han bag is your better half, the one you truly love, your one and only yori yori; your dear wife. My question to any man reading this piece is: have you ever bought yo veri 'han bag' a han bag? If no, then, give it a try today or on her birthday. Thereafter, yan mi hau yu waka.
Oribhabor is a member of ANA and resides in Abuja.