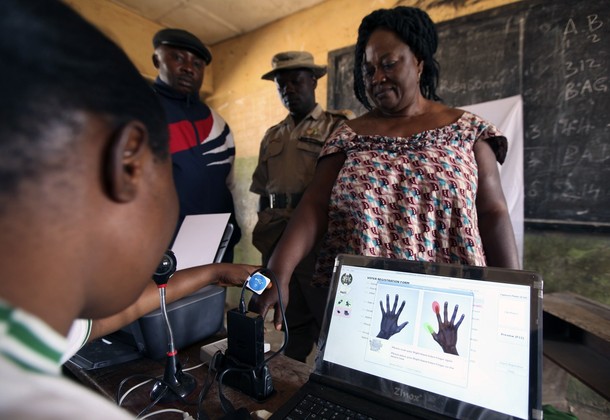 Nigerian lawmakers passed a bill Tuesday that could extend a voter registration drive for the oil-rich nation's April elections by more than two weeks, responding to criticisms surrounding the effort.
The vote by Nigeria's House of Representatives comes as the Senate has called the head of the nation's Independent National Electoral Commission to testify before members Wednesday. His testimony likely will signal whether the effort to register an estimated 70 million eligible voters will continue or end by late Saturday afternoon as scheduled.
As of now, electoral officials have until Saturday afternoon to register voters at about 120,000 locations spread across Africa's most populous nation. The House bill, if passed by the Senate and signed by President Goodluck Jonathan, would allow election officials to take up to an additional 16 days to finish the registration drive.
Election officials have met over the last several days about extending the registration period. Kayode Idowu, an election commission spokesman, said commission chairman Attahiru Jega would appear Wednesday morning before the Senate to announce his plans.
"There's nothing to be said about the extension now," Idowu said.
The April elections include a presidential poll in which Jonathan will face opponents from minor parties. Jonathan is a member of the ruling People's Democratic Party, the only force with the money, political connections and muscle necessary to manipulate an election.
International observers called the 2007 election of the late President Umaru Yar'Adua rigged, even though it represented the first civilian-to-civilian transfer of power in the nation's history.
The voter registration began Jan. 15 with workers from Nigeria's National Youth Service Corps, a mandatory yearlong program for university graduates. However, problems began almost immediately. Some of laptop computers, fingerprint scanners, printers and digital cameras the nation purchased for more than $230 million didn't arrive in time, while other units had not been charged in a country where electricity remains scarce. Others had problems with the fingerprint scanners, which remain finicky at best.
Many problems appear to be solved as the registration period continues, though others persist. Francis Onahor, an organizer for a voter rights website called ReclaimNaija, said Tuesday people across the nation had e-mailed, sent text messages and called about problems they faced in registering. Most dealt with machines or officials not being in the right place, while others included interference by political parties.
"At the kickoff, the problem was mainly technical; machines not being able to scan the fingerprints," Onahor said. "Right now, the major areas we are looking at are where we have huge populations, but where we have very few registration machines."
However, signs of corruption already seem to show among the website's collected complaints, which included electoral officials asking for money to register voters while others bring in voters from outside their communities to register.
-AP