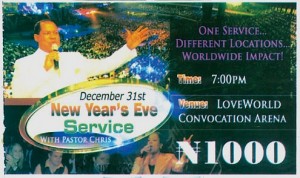 By Nigerians Abroad staff writer
Famous international evangelical ministry known as Christ Embassy might have drown itself in a suicidal scandal that will hunt the faith base organization for years to come.
Following a Lagos based news media report of an extortion of N1000 gate fee from worshipers to participate in Christ Embassy's 2010 New Year's eve service, Nigerians have continued to react to what many now called an epitome of ungodly and corrupt act by the church, founded by popular televangelist, Pastor Chris Oyakhilome.
On December 31, 2010, worshipers who planed to celebrate the New Year, but failed to show their N1000 valued gate fee tickets were shocked and left confused when they were refused entry into Christ Embassy headquarter in Lagos.
A printed paper ticket meant to be an entry pass for interested worshipers has on it the following information: December 31st New Year's eve service with Pastor Chris - One Service… Different Locations… Worldwide Impact! Time: 7pm, Venue: Loveworld Convention Arena - N1000.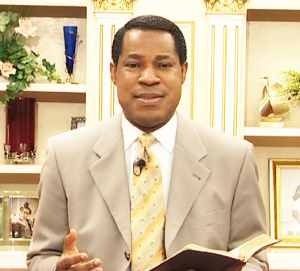 It was later gathered that the church had informed the more than 25,000 congregation who braced the N1000 gate fee that the charges was imposed to control the huge crowd that always besiege the church on such special service.
The scandal has resulted in a backlash from other religious leaders and concerned Nigerians. This includes respected religious figures such as Dr. Ola Makinde, the prelate, Methodist Church Nigeria and Prophet Samuel Kayode Abiara, General Evangelist, Christ Apostolic Church Worldwide.
Dr Makinde laments on the commercialization of religion as an abuse of Christianity. He called it  a "sacrilege."
Also reacting to the gate fee scandal, Prophet Abiara called the act as "unbiblical."
"Collecting money as gate fee before a church service is unbiblical because there is nowhere in the Bible where it was recorded that Jesus collected money from the multitude that listened to His sermon and benefited from His Miracle… Salvation is free. You receive it free and you give it free," he said.
This is not the first time that the success and conduct of Pastor Chris' Christ Embassy has generated strong and divided reactions from members of the public. In December 2010, Nigeria anti-corruption agency, EFCC had invited Pastor Chris for questioning over a $35million money laundering allegations that involve the pastor's church and its foreign partner.
In a country where governments have failed the people, some religious organizations have taken up the roles of humanitarian agencies, providing food, shelter and love to economically challenged Nigerians. For many, such is the role of religious organizations - to put smile on the face of the less privilege - as taught by Jesus Christ.
Notwithstanding the achievement recorded by such faith bases organizations, over the past two decades and across major Nigerian cities, there has been tremendous increase in the number of organized religious establishments, registered as an incorporated businesses. As a result, some opinion leaders have called for government to treat such religious organization as a business entity by imposing on them appropriate taxes.
As the controversy over Christ Embassy New Year's eve gate fee scandal lingers on, many Nigerians hope that the church will come out and purify itself before being consumed by its self-inflicted controversy.
———————
Pls. open the following link to read Nigerians Abroad magazine reader's SPECIAL THANK YOU LETTER - Happy Holiday!