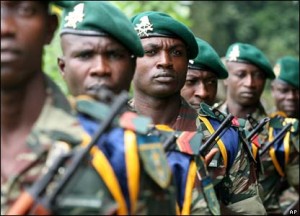 Nigerian President Goodluck Jonathan threatened Monday to keep his nation's troops out of UN peacekeeping missions unless rules of engagement are changed to help prevent soldiers' deaths.
"I wouldn't want to lose one soldier carelessly, and for that reason, the UN also needs to change rules of engagement if Nigeria's soldiers must be involved in peace operations," Jonathan told an international seminar on peacekeeping.
He did not specify what new rules of engagement Nigeria wants.
Nigeria, currently a member of the UN Security Council and Africa's most populous nation, lost seven soldiers in 2007 in an ambush during peace operations in Sudan.
Last year, a Nigerian soldier was gunned down near his home in the capital of Sudan's South Darfur state by unknown attackers who stole his car.
Jonathan said militia groups ambushing and killing troops was "totally unacceptable."
The country has also notably participated in peace operations in Liberia and Sierra Leone.
Nigeria's UN mission says on its website that there are more than 6,000 Nigerian troops serving under United Nations mandates worldwide, but it was unclear whether that number remained up to date.
Jonathan also blamed arms manufacturers in rich nations for contributing to violence in Africa.
"In Africa, one of the greatest problems is the dumping of small arms and light weapons by the industrialised countries. This encourages a lot of criminal activities, the militia groups and all kind of conflicts," he said.
Nigeria will hold presidential elections early next year, and Jonathan is widely expected to run.
Associate Press