France terror attack updates:
- Nigeria President Muhammadu Buhari in a statement condems the terror attack and describes it as "a barbaric attacks which constitute an unacceptable affront to all human values and civilized norms." The president calls on "all peace-loving nations of the world to intensify ongoing multilateral cooperation and collaborative actions aimed at bringing the scourge of international terrorism to a speedy end for the benefit of all nations."
#IS have officially claimed responsibility for #Paris attacks. Statements in Arabic and French so far. pic.twitter.com/fpf6o7g1RB

— Charlie Winter (@charliewinter) November 14, 2015
- Islamic States (ISIS) claims responsibility for Paris deadly attacks, says it was a  response to air strikes against its members. - President Francois Hollande of France vows to go after those responsible for Friday, November 13 terror attack.
We wanted to be here among all those who saw these atrocious things, to say that we are going to fight and our fight will be merciless, because these terrorists that are capable of such atrocities need to know that they will be confronted by a France that is determined, unified and pulled together and a France that will not let itself be overawed even if today it is expressing an infinite amount of emotion at this drama and this tragedy, which was an abomination and a barbaric act.
- Three suspected attackers killed by French police in a raid on Bataclan theater. - Latest reports that up o 100 hostages may have been killed by terrorists at the Bataclan theater in central Paris.
The moment French President Francois Hollande escorted out of the Stade de France https://t.co/fAckfO9mfQ #paris pic.twitter.com/QgFsPl5YWm — Elliot Wagland (@elliotwagland) November 13, 2015
- "French radio reporter Julien Pearce was inside the Bataclan theater when gunmen entered. Two men dressed in black started shooting what he described as AK-47s, and after wounded people fell to the floor, the two gunmen shot them again, execution-style, he said. The two men didn't wear masks and didn't say anything. The gunfire lasted 10 to 15 minutes, sending the crowd inside the small concert hall into a screaming panic, said Pearce, who escaped. He said he saw 20 to 25 bodies lying on the floor. The hostage situation at the Bataclan continued early Saturday." - CNN
-This is an attack on all of humanity and the values we share… those who think they can terrorized the people of Paris and their values are wrong. We are going to do whatever it takes to work wit the French people and nations around the world to bring this terrorist to justice." - United States President Barack Obama
- The terror attack on Paris is coming 24 hrs after the announcement a U.S. drone strike that killed ISIS terrorist 'Jihadi John' in Syria, and 10 months after the Charlie Hebdo attack.
- France has declared a state of emergency and closed land borders.
- French BFMTV reporting that up to 60 people have been confirmed dead.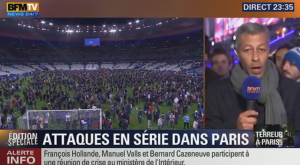 - Friendly football match between France and Germany abandoned. Emergency evacuation of fans ongoing.
- French President Francois Hollande, who was watching a friendly football match between his country and Germany near one of the attack sites, was moved to safety.
---
French police officials and witnesses have reported an explosion in a bar near a Paris stadium, a shootout outside three Paris restaurants and a hostage situation in a concert hall, leaving at least 35 dead.
According to eyewitness Jim Carroll, 67, who was walking home to his apartment on Rue Bichat at the time of the attack on the restaurants in the 10th arrondissement, there was "a loud explosion" followed by a sound like that of "Chinese fireworks – a long extended spattering that lasted for fifteen seconds."
"Then there was another explosion and spattering that lasted for a few seconds like the first one," he added. "Within just a minute there were the sounds of the engines."
Carroll reported a scene of "chaos."
Firemen and police immediately barricaded Rue Bichat and all the surrounding streets.
Authorities also evacuated Place de la République and caused a flood of people to cross over the Canal Saint-Martin.
Ambulances are now on the scene.
One of the police officials said there was a separate explosion near the Stade de France north of Paris. It was unclear if the events were linked.
An eyewitness at the stadium filmed the field filled with spectators, which he described in a Tweet as a "surreal scene" filled with helicopters.
France24