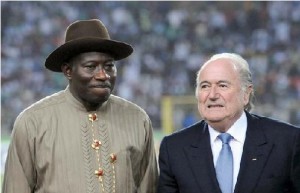 By Ademola Bellow
Soccer, widely called football, is a non sequitur sport that is unyielding to modernity and does not evolve with time. That is why the arcane rules of the game, cheating and poor officiating have turned the ongoing World Cup competition in South Africa into an embarrassment of sorts for the world football governing body, known as FIFA.
Luis Suarez's crazy handball in the box in the 121st minute of play prevented a definite goal for Ghana, and robbed them of a victory and a spot in the World Cup semifinals. Forget the penalty kick or the red card that was shown to the Uruguayan player for his shameless conduct to save his team from elimination. FIFA should put new rules in place to avert this kind of cheating in future tournaments.
Soccer is gradually becoming a boring and monolithic sport that is difficult to watch. No wonder that it has not been a popular success in the USA. Further, any government that puts soccer as the topmost priority for its citizens is a joke and should not be taken seriously. In the aftermath of the dismal performance of the Nigerian soccer team, the "Super Eagles", at the World Cup in South Africa, Nigeria's President, Goodluck Jonathan announced the suspension of Nigeria from international competition for two years to enable the country to put its house in order. This is not just a totalitarian mentality by Jonathan's administration; it is a grandstanding, spectacle and a diversionary tactic from the main issues confronting the country.
Nigeria is a farce where triviality triumphs over substance and mediocrity has become the norm. Why are Nigerians angry that the Super Eagles performed poorly at the World Cup in South Africa? President Jonathan was looking for a needle in a haystack. He is planning an audit of the country's World Cup organizing committee. The Nigerian Football Federation is to be dissolved and an interim board appointed. According to his Special presidential adviser Ima Niboro, "If any financial misappropriation is discovered, all officials responsible will be held accountable." Of course, this sounds like a lofty idea. The Nigeria Football Federation officials are corrupt, clueless, and irresponsible, and the present crop of Nigeria Super Eagles players are less talented and below average. The Nigerian professional League that produced great Nigerian soccer players is virtually dead and uninspiring these days. But the rotten NFF and the Super Eagles are a mirror of Nigerian society as a whole. We react to events emotionally without thinking of how to proffer solutions. Where has our sense of reasoning and analysis gone? Of all the myriad problems facing Nigeria -ranging from corruption, poverty, unemployment, insecurity, electoral reforms that are going nowhere, inadequate electrical supply in many areas of the country, and oil spills caused by big oil companies in the Niger Delta areas- Nigeria's President has nothing serious to think about, other than to lament the country's National team poor showing at the World Cup. We are told the Nigerian Football Federation tendered an unreserved apology to the President and Nigerians over the dismal performance of the Super Eagles at the 2010 World Cup in South Africa.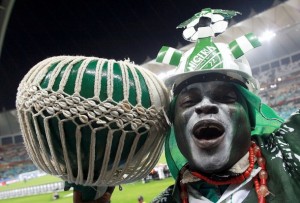 Why can't Mr. Jonathan simply focus on the business of governing Nigeria and deliver for the people and be a hero himself, instead of trying to discover a "Pele" or a Superhero for the crazed soccer fans in Nigeria?
The Football World governing body FIFA gave Nigeria's government 48 hours to rescind its decision. Mr. Jonathan, in a disingenuous move, lifted his two year ban on the country from all international competitions. He fired the players, he removed the former leadership of NFF, and replaced it with an interim leadership. And he directed the new board to grow a new senior national team that will bring glory, rather than consistent embarrassment, to Nigeria on the world stage.
It is strange that we now have a President who wants to be the manager of a soccer team, and yet he is not building anything up but tearing down, perhaps due to his temperament.
Suspension of a Soccer team has not worked in the past in Nigeria. In 1984's epic African Champion League's final between the Nigerian Soccer team Shooting Stars of Ibadan and Al- Zamalek Football Club of Egypt, Nigeria's military dictator General Muhammadu Buhari and then Oyo State Governor Col. Oladayo Popoola wanted Shooting Stars -which paraded great players like Segun Odegbami, Muda Lawal, and Felix Owolabi among others- to defeat the Egyptians and win the coveted trophy that has eluded the country. Sadly, IICC Shooting Stars lost to Zamalek and did not become the heroes Nigerian military dictators wanted. The team was suspended. After the suspension the club became disorganized and was relegated to Division 2 League. They recovered, but it took years.
Mr. Jonathan, the business of governing Nigeria is far more important than the mundane issues of soccer. Stop playing politics with soccer! It is not your job. Let the right people sort it out. Stop disgracing your office by throwing a tantrum over a soccer game.