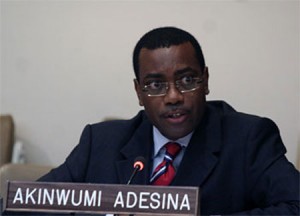 A Nigerian, Mr Akin Adesina, has been appointed into the UN Millennium Development Goals (MDGs) Advocacy Group that will drive the rapid achievement of the Goals across the globe.
Announcing the 17-man man high-profile committee in New York, UN Secretary-General Ban Ki-Moon said they were "eminent personalities'' who had shown outstanding leadership in promoting the implementation of the MDGs.
Adesina is the Vice President of the Alliance for a Green Revolution in Africa (AGRA) and he would lead a think-tank on MDG 1- elimination of extreme poverty and hunger.
President Paul Kagame of Rwanda and Prime Minister Jose Luis Rodriguez Zapatero of Spain are co-chairs of the group.
Other members of the group include Nobel laureate Muhammad Yunus of Bangladesh, Former Chilean President Michelle Bachelet, Microsoft Founder Bill Gates, CNN founder Ted Turner and Jeffrey Sachs of The Earth Institute and a Professor at Columbia University.
Ban told reporters at an event that also marked the launch of the UN MDG 2010 progress report that other "distinguished'' personalities from China, India, Japan and Britain would join the panel.
"As you can see, (this is) a real collection of superheroes in defeating poverty," he said.
He said the group `would support him in building political will and mobilizing global action to make the forthcoming September MDG Summit a turning point in the collective effort to achieve the Goals by the 2015.
NAN reports that the summit is coming ten years after world leaders adopted the eight key development goals aimed at reducing extreme poverty by half by 2015.
Ban said the MDG Advocacy Group was made up of "some of the world's leading thinkers and doers."
"We need to emerge from the September Millennium Development Goals Summit with concrete national action plans for realizing the goals," he said.
"These advocates can help get us there.
"They will help generate political will and mobilize a global grassroots movement to meet the MDGs,'' he said.
On the MDG 2010 report, the UN chief said the annual assessment report shows an uneven progress in reducing poverty.
The report says the world had made huge strides in certain areas such as reducing extreme poverty and tackling HIV and AIDS, but still lags in other critical areas like improving maternal health and increasing access to decent sanitation.
According to the UN report, the proportion of people living on less than 1.25 dollars a day in developing nations has dropped from 46 percent in 1990 to 27 percent in 2005, largely due to improvements in China and other nations in Asia.
The figure is expected to drop to 15 percent by the target year of 2015.
The report also cites big gains in getting children into primary schools in many developing countries, especially in Africa.
It also cites "strong interventions in addressing AIDS, malaria and child health" and "a good chance to reach the target for access to clean drinking water."
News Agency of Nigeria