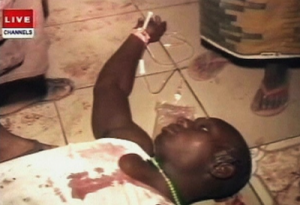 By NAL Staff writer
Nigeria is a unique country, relatively. It's one of few nations where failure and incompetent are rewarded.
In the wake of the 2011 Christmas bombing that killed more that 25 innocent people in the outskirt of Abuja and thrown the country into yet another mourning period, some groups are calling for the resignation of the Inspector General of Police Hafiz Rigim. Others have threatened to take law into their hands, if the government cannot protect their lives and properties. Boko Haram, an Islamist militia based in the Northeast region of the country has claimed responsibility for the bombing.
In his usual reactions, Nigeria's President Goodluck Jonathan has condemned the bombing  as "acts of violence against innocent citizens," sent his condolence messages to families of the victims by asking "God to grant these innocent souls eternal rest, and give their families the fortitude to bear this painful loss" and promised to "bring all perpetrators to justice."
"The lives of Nigerians are not save. It doesn't matter what part of the country you live in," said Sam Okafor, a resident in the country's capital, Abuja.
"The security situation is not getting better. Every month, you would hear news about Boko Haram killing and bombings. We want the IG [Rigim] to resign or be fired; otherwise the President himself should resign, if he cannot do the job."
Okafor echoed the frustrations of millions of Nigerians over security and Intelligence agencies failure to a stop to what is now tagged "the Boko Haram menace." Since the bombing of the Police Headquarter in June, the group has proven to be of real threat to national security. Their boldest terror mark was unleashed on the United Nations's Abuja Office in August,where dozens of people lost their lives.
In November, despite clear failure of the country's security agencies to checked widespread bombings and killings by Boko Haram, President Jonathan honoured all the military service chiefs, including Rigim with National Awards of Commander of the Federal Republic (CFR). Opposition voices against the President's lack of purpose gesture did not stop him from giving out the awards
On December 8, members of the militia group from the Southwest, Odua People's Congress (OPC), took to the streets of Lagos, freely displaying weapons, to protest against Boko Haram and threatened to defend their people by any means; just as the fear of ethnic retaliations spread across the counntry.
The Islamist militia has pledged to continue its strike against government interests in 2012. Nigerians are now left to their own mercy, as many are convinced that the President and his security agencies might not have the answers to "the Boko Haram menace."