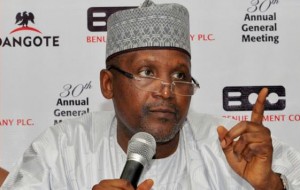 Reuters - Dangote Cement, Nigeria's biggest cement maker, was valued at 2.1 trillion naira when listing on Tuesday, lifting the local stock market's capitalisation by around a third at the same time.
Dangote Cement listed 15.5 billion shares at 135 naira in the biggest listing in sub-Saharan Africa's second largest equities market, making it Nigeria's top company by market value. The move followed a merger with local rival Benue Cement.
Majority owner Aliko Dangote said he wanted "to create an African champion that can compete with the largest cement companies in the world".
Aliko Dangote held majority stakes in Benue Cement and Dangote Cement through his holding company Dangote Industries, meaning the free float of the listed entity was less than five percent, below the Nigerian regulator's 25 percent minimum.
GROWTH PLANS
Dangote Cement shares closed at their listing price of 135 naira after trading in high volumes for less than an hour.
The company, setting up plants and import terminals in countries around Africa including Cameroon, Ethiopia, Ghana, Ivory Coast, Senegal and Zambia, aims to produce 46 million tonnes of cement in five years on the continent, 30 million of it in Nigeria.
The aim of the merger with Benue was to allow Dangote's cement operations better access to financing, as well as consolidating supply and distribution chains, reducing costs and helping increase cement production more quickly.
"The listing appears to have attracted significant interest from many investors. This, in addition to its low free float, should serve as a catalyst for the stock in the short term," Stanbic IBTC, said, setting a 12-month target price of 170.50 naira and a "buy" recommendation.
It said the company was attractively valued at 7.9 times 2012 earnings, compared with a price-to-earnings ratio of 9 for Nigerian peers.
Other analysts disagreed, saying the valuation was expensive compared with global peers such as French group Lafarge, the world's largest cement maker.
Listing broker Afrinvest said 25 percent of the shares were theoretically on offer in Nigeria but the local market, whose capitalisation was just over 6 trillion naira before the listing, was unlikely to have the capacity to buy that amount.
"Because the market is not likely to absorb all of that quantity, the (stock exchange) council has given a special dispensation to sell the remainder over the next two years," Afrinvest chief executive Godwin Obaseki said.
Dangote Cement's chief operating officer Kunle Alake told Reuters last week the company planned to sell a 20 percent stake through a global share offering in the next 18 months to meet the minimum free float requirement.
Aliko Dangote said on Monday the offering would most likely be in London.