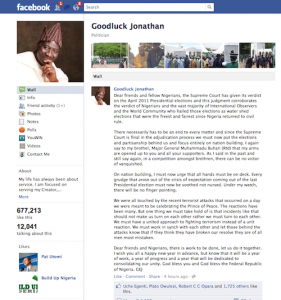 By Nigerians Abroad staff writer
Facebook followers of Nigeria's President Goodluck Jonathan on Wednesday expressed outraged against the perceived incompetency of the Presidency; Others have called for fans of the President to "unlike" his official page as a mark of protest.
President Jonathan angers more than 650,000 fans (inside and outside Nigeria) after the most recent update that celebrates his victory at the Supreme Court before addressing the Christmas Day bombings by Islamist militia group, Boko Haram, which claimed dozens of innocent lives – a move that many considered as insensitive and insulting.
"Dear friends and fellow Nigerians, the Supreme Court has given its verdict on the April 2011 Presidential elections and this judgment corroborates the verdict of Nigerians and the vast majority of International Observers," President Jonathan's update opening line reads.
After the post, it didn't take long before an overwhelming responds of disapproval of the update start to flood the President's Facebook wall .
"This post is highly inappropriate, insensitive and unconscionable at a time when Nigerians are in mourning for the senseless bombing of worshipers whose only crime was opting to worship God in a non-Muslim way. Shamelessly, we have the leader of the country making out time to discuss an inconsequential victory. Who cares really?" Steph Evuleocha-Uwakweh lamented on the President's wall post.
Abayomi Dada, one of President Jonathan fans wrote, "I'm disappointed that in time like this, when the nation is boiling, you are posting about victory at the election. Go back to God, ask for mercy and direction on what to do to lead the great people of Nigeria."
The President, however, manages to get few congratulatory messages from his supporters, but not without hitting some notes of warning.
"Congrats Mr President, but please wake up from your deep slumber and save Nigerians before Bokoharam will kill everybody," wrote Okoye Raymond Amani.
Many Nigerians disapprove what they see as the President Jonathan's failure to prioritize and act decisively. The sentiments and sympathies that follow the President election victory in the April poll, especially among many southerners is been eroded by  surge in terror attacks and signs of  no clear directions on government policies. The Presidency has been weakened by numbers of failed social policies that have very little to do with the transformation and development of Africa's largest democracy.
"We are talking about Boko Haram, Power, Unemployment, Bad roads, poor quality of education, mass poverty. Government is talking about gay bills and subsidy removal. I see the government of Nigeria as irresponsible," says Ivy Scott, a concerned Nigerian and a Facebook fan of the President.