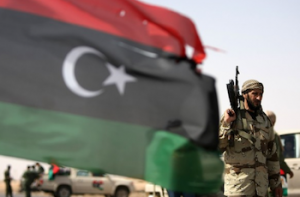 PRI - The rebels stormed Gadhafi's compound in Tripoli on Tuesday, but NATO says it will continue operations over Libya for now. NATO won't be the only international presence. Libya's rebels are expected to receive help from the United Nations, the United States and the European Union, among others.
In Europe, there is already jockeying for influence over plans to rebuild the country.
"It is time to prepare for peace," French Foreign Minister Alain Juppe said on French radio. "We've already proposed a new initiative to transform the International Contact Group, which has been the military structure during this conflict, into a group to aid Libya in rebuilding democratically.
France and the European Union have been anxious to stress that Libyans would lead rebuilding efforts. Western powers do not want to give the impression they're trying to control the transition.
The EU's Foreign Affairs chief, Catherine Ashton, said Tuesday the UN should take a lead role in assisting the Libyans. "For my part, the interest I have is making sure that we're ready to respond in a way that the Libyan people want with the UN leadership, but in a way that recognizes the particular contributions of the EU."
According to EU spokesman Michael Mann, those contributions could include humanitarian assistance, funds towards democratization and funds to help with economic recovery in Libya.
In Libya, the economy means oil. The Gadhafi government grew rich selling oil operating licenses to foreign companies, and two of Libya's biggest clients are Italy's Eni and France's Total.
Italy's Foreign Minister has said Eni officials are already on the ground in Libya, assessing how long it will take to get the oil flowing again.
Julian Lee, with the Centre for Global Energy Studies in London, says the countries that supported the rebels with military aid will now likely be rewarded.
"That will put countries like Italy very high up in the ranks," Lee said. "And certainly other European and North American countries would seem, on the face of it, to be in a very strong position relative to those of Russia and China, whose governments have continued to speak out against NATO actions."
A spokesman for a new rebel-run Libyan oil company, Agoco, essentially confirmed Lee's analysis, saying Russia and China may have a harder time returning to Libya's oil fields.
But with a cash-strapped government, it will be in Libya's interest to seek out the highest bidder.