Greece has formally asked for the activation of an EU-IMF financial rescue package to help pull the debt-ridden economy out of its crisis.
It had hoped that just the promise of EU support, agreed last month, would have been be enough to reassure markets and help its recovery.
But Greece's problems have continued to hit investor confidence in the euro and other European economies.
Eurozone countries will now provide tens of billions of euros in loans.
On Friday evening, several thousand protesters took to the streets of Athens to demonstrate against further austerity measures.
Earlier this month, a deal was agreed under which eurozone nations would provide emergency loans of up to 30bn euros ($40bn; £26bn) in the first year, with a further 10bn euros coming from the International Monetary Fund (IMF).
The European Commission and the IMF said they were optimistic that the exact details of a loan could be worked out quickly.
However, in Germany, where there has been public opposition to funding a bail-out, Chancellor Angela Merkel said any aid would come with "very strict conditions", including a credible savings plan.
A German finance ministry official, Joerg Asmussen, said his country was doing its bit. "The German side is ready to act with its part of the aid package. I cannot say anything about the time frame, but originally it should need some two weeks," he said.
Greek Prime Minister George Papandreou, on a visit to the Aegean island of Kastellorizo, said the markets had not responded positively to the austerity measures designed to reduce the country's debts, as he had hoped.
Confidence in the Greece economy has continued to fall, pushing its cost of borrowing to record levels in recent days.
It was therefore now a "national and pressing necessity" to access the EU-IMF aid, he said, and he had asked Finance Minister George Papaconstantinou to make a formal request for the loan plan's activation.
"Our partners will decisively contribute to provide Greece the safe harbour that will allow us to rebuild our ship," added Mr Papandreou.
'Pressure on'
Greece has sent a letter to the European Commission, the European Central Bank and the Eurogroup representing other Eurozone countries "formally requesting the activation of the support mechanism".
There are still some hurdles to clear though.
The German opposition SPD is demanding a full debate on their portion of the aid package which could delay any German contribution.
So the IMF may be called on to finance the first portion of the aid. The next immediate step will be for eurozone ministers to agree an interest rate for loans to Greece - which will be considerably lower than the 8% they are facing on the open market at the moment.
The BBC economics editor Stephanie Flanders said for non-eurozone senior officials, the Greek problem looked manageable. They just wished everyone would get on and manage it.
She said the clock was now ticking and several countries needed to get parliamentary approval for the plan, which would take some weeks.
She added that delays had already pushed up the amount needed to support Greece, and further pain could be in store.
Uncertainty remains
The euro rallied in late Friday trade, ending in New York 0.6% higher at $1.33.8.
The yield, or interest rate, on Greek 10-year bonds, fell to as low as 7.99% after Mr Papandreou spoke, after rising to nearly 9% on Thursday - its highest level for more than 10 years. It then crept back up to 8.66%.
The fall is a sign of a slight increase in confidence in Greece's ability to pay back its loans. But analysts said there was still significant uncertainty ahead.
"The market's relatively modest reaction to the news that Greece was formally requesting aid from the EU and IMF was a clear sign that the market still believes that Greece will be forced to restructure its debt even with a bail-out," said BNY Mellon's Simon Derrick.
"These concerns were hardly soothed by a comment from the European Commission that it was neither for nor against a restructuring."
In addition, attention has also been turning to other eurozone countries with large deficits in recent days.
BNY Mellon pointed out that Portugal had come under pressure on the markets this week, with the cost of its borrowing rising.
It also remarked that some investors had begun to pull out of investing in Portuguese debt in recent days. "It seems clear which domino currently looks in danger of falling over on the European table," Mr Derrick said.
But one of the members of the European Central Bank Governing Committee, Ewald Nowotny, said Greece's problems should not unsettle other eurozone countries.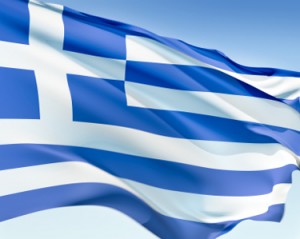 He said: "The fiscal situation of, let's say, Spain and Portugal, cannot be compared with the situation of Greece. It should be made very clear that there is no economic basis for negative news about these countries and it should also show very clearly that we do no want to give space for speculation."
Spending cutbacks
The EU-IMF loans package has been put together to help pull Greece out of its debt crisis.
Greece is swamped by 300bn euros of debt and needs to borrow about 54bn euros this year alone.
In the middle of April finance ministers of the eurozone nations agreed to provide up to 30bn euros in emergency loans for debt-hit Greece should it ask for them.
At the time they offered a three-year financing programme at interest rates of about 5%, based on IMF formulas.
Meanwhile, spending cutbacks being introduced by Athens to restore its finances are being resisted.
On Friday, Greek riot police fired tear gas during unrest as about 2,500 people marched through the streets of central Athens in protest at the country's austerity measures in the latest display of public opposition.
BBC NEWS