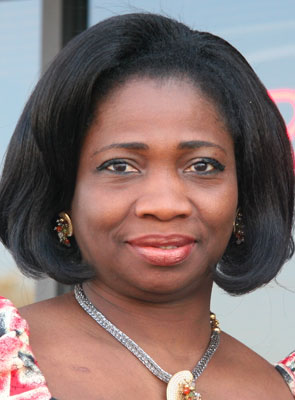 The maltreatment of some Nigerian immigrants in foreign countries may have finally start  to  attract the attention of  relevant government agencies in Abuja.
Barely a month after the House of Representative Committee on Diaspora expressed strong reservation over the death of a Nigerian in Poland, the committee chairperson, Hon. Abike Dabiri-Erewa  has once again expressed concern on the possibility of more Nigerians being executed abroad if government continues to remain silence on their plights.
At an event held in Abuja on Wednesday to profile 50 Nigerian legislative icons, Hon Dabiri-Erewa reacted to the execution of 19 Nigerians in Libya on Sunday, and faulted the Ministry of Foreign Affairs for its silence over the matter. She decried the lukewarm attitude of the former Minister of Foreign Affairs, Chief Ojo Maduekwe on issues that concern the Nigerian diaspora.
Hon. Dabiri-Erewa who was one of the honoured lawmakers at the event said the committee once called the attention of the foreign ministry to the ordeal of  Nigerians in Libyan prisons, but with little or no success - "It is very sad. You remember that we brought this in the front burner of the nation's discuss sometime ago. We raised an alarm that Nigerians were about to be executed in Libya; the Foreign Affairs Ministry then said oh, it is not true, but we persisted and we got them back." According to the lawmaker,  she regularly receives text messages from Nigerians in prisons abroad.
"This is another batch that has been executed and another batch would be executed. It is like a quarterly thing if we do not do something. We need to bring back our Charge de Affairs in Libya; we need to go there and make strong presentation.
According to the lawmakers, if Nigerians keep quiet, more Nigerians will be killed.
Meanwhile, the Socio-Economic Rights and Accountability Project (SERAP) has urged President Goodluck Jonathan to invite the Libyan Ambassador to Nigeria for questioning on the recent execution of some Nigerians on death row in the North African country.
The organisation is also calling on Jonathan put in place measures to investigate the reported execution of the Nigerians and their counterparts from other African countries on Sunday.
SERAP further urged Jonathan to call for an extraordinary session of the African Union Assembly to deliberate on the execution of the Nigerians and nationals of other African countries in Libya as a strategic way of addressing the recurrent incident.
SERAP had petitioned Jonathan through its lawyer, Mr. Femi Falana, to express deep worry over the recent executions.
The Executive Director of SERAP, Mr. Adetokunbo Mumuni, quoted Falana has having said in the petition that while the number of Nigerians executed was not clear, more than 200 people were listed for execution in Libya.
Falana also described the executions as acts of murder committed against nationals of African countries in spite of a directive by the African Commission on Human and Peoples rights that the execution be put on hold pending the determination of SERAP's objection on the issue.
"And that was why we did what we did and brought those people back."
"Apart from bringing those 21 back, we got a lot of them deported to Nigeria, but since then, there was no follow up from the Ministry of Foreign Affairs.
"If that follow up is not there, I can assure you that in another few months more will be killed and it is not new, it has been happening but when the Committee in Diaspora raised the alarm, the Ministry said oh don't mind them, but it turned that it was actually true."
She added what we needed to do was that we must ensure that we protect our citizens saying that no matter the situation, they don't deserve to be killed in any way.
"If they commit an offence they are supposedly to be sent back to their country. Most of these things are immigration matters.
"Also of importance is that we have to holistically look at why Nigerians are leaving in droves. We have been talking about Libya. In Cairo, we have several of them in prisons; we still have the cases in Indonesia.
"So, as a nation we need to take a holistic look at these things. We have one in Poland, another one in Switzerland , Malaysia and more will soon happen," she added.
Ref: Punch