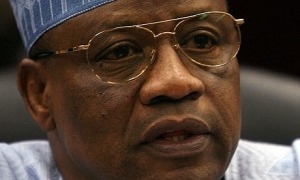 FOR a country that have spent much of its 50 years of independent under stringent conditions, poor leadership and mismanagement of its wealth, it's not unusual for Nigerians to actively debate which of their leaders has failed the country the most. What is however rare is for the masses to take the position of spectators while two of their former presidents freely crush each other's credibility and record of governance on the pages of news dailies.
The 'free for all smack down' by two former presidents,Ibrahim Badamosi  Babaginda, IBB (from 1985 -1993) and Olusegun Obasanjo,OBJ (from 1999 - 2007) have forced many to ask; What the heck in the world could the two ex military generals be thinking for them to have descended so low from their hilltop mansions to calling each other names and feeding the public with their stomach sickening venom?
On the one hand, event of the past week was the worst birthday gift Babaginda could have asked for. While the former military strongman celebrated its 70th birthday on Wednesday, August 17th, he was overwhelmed by the death of his former right man, Admiral Augustus Aikhomu, Rtd. Barely 24 hrs hours after, he had to slugged it out with his former military boss, in an unusual public spat. I fear the doom day itching closer to the footstep of the Minna Reversed-Robin Hood.
Compare to the Minna General, The case of Obasanjo is simply a matter of the proverbial bull in a China shop. Decades of life experiences still can't help the Otta farmer from throwing tantrum around and calling for the head of anyone who dares critic his actions (whether during or outside his public service life). He has literary become a white elephant in the room - too big to be stepped on.
Why the relationship between the two seemingly allies may have look all good and dandy in the eyes of the public, staunch observers of political events have always maintained that their unholy friendship is only for strategic purposes cemented by their political interests - a bizarre relationship of pretense.
Besides their role during the country's darkest era, both IBB and OBJ since Nigeria's returned to democracy in 1999 have acquired the status of two most powerful Nigerian politicians; their influences spread beyond each others region of birth, the loyalty and patronage enjoyed by the two godfathers are far reaching even outside their political lining and known affiliation. It therefore makes sense when Nigerians attribute the country's stack underdevelopment (considering its potentials) to the duo years of leadership failure, even though they see themselves as the best things that ever happened to the country.
Twice (in 2007 and 2011), Babaginda tried, unsuccessfully, to return as Nigeria's president. Ironically, the major human obstacle that has kept him from fulfilling his idealistic desire over the country has been Obasanjo, a 'friend' that he helped to get to the throne in 1999.
All moves by Babaginda to seek presidential ticket of the ruling Peoples Democratic Party were frustrated by Obasanjo, based on personal motives and regional politics. The latter even though is an open secret among power brokers in the capital, is usually dismissed as a conspiracy theory.  The plan to break the dynamism of core Northern political bloc elites remains a life time ambition for OBJ.
Babaginda himself has openly admitted that he was frustrated by Obasanjo, through the anti-financial crime agency (EFCC) not to contest the 2007 election. Interesting enough, while Babaginda has always maintained that he has no skeleton in his cupboard, he however still found EFCC threat serious enough for him to relinquish his presidential ambition in 2007. Obasanjo would further outsmart Babaginda in the last presidential election and denied him another chance by actively leading Goodluck Jonathan presidential election success.
Supporters of Babaginda or the IBB boys as they are popularly referred to have slammed Obasanjo over his outburst to their godfather's criticism. The latest of them being former Aviation Minister (Under Obasanjo regime), Femi Fani-Kayode. According to Fani-Kayode, Obasanjo lacks the moral standing to have castigated the former military chief as a fool.
"Whilst I do not subscribe to the view or accept the notion that the Obasanjo administration was a failure and that it did not achieve anything, I do believe that Obasanjo made a grave mistake and indeed inflicted a deep spiritual wound on himself by insulting General Ibrahim Babangida in the way that he did"
"I am not in the least bit surprised that Babangida responded to those insults in the way that he did. You do not call me a fool at 70 the day after my birthday and expect me to keep quiet and smile, no matter what or who you think you are and no matter what may have provoked you," Kayode statement to the press reads.
Nevertheless, the two leaders may have shot themselves in their feet. For many, neither Obasanjo nor Babaginda deserves their sympathy. As a matter of fact, Nigerians would like to see the two seemingly tough Generals be bold enough to open up on each other inadequacies.
A critical and fact base 'smacking' of each other (by the two former presidents, who know so much about governance of the country over the decades) might turn around to be of good for the country. Forget the talk about leaders washing their dirty linens in the public and how such act is an embarrassment to the country or defies the notion of true national leaders. One of many obstacle to our national development has been the siddon and look attitude on issues that affect and shape the lives of many — put people out of jobs, caused the untimely deaths of citizens and enforced various social constructs that have made some untouchable.
Nigeria will never reach its full potential as a progressive and democratic society, if a citizen, such as Obasanjo cannot be invited before legislators to answer allegation of mismanagement of the people's commonwealth because of his status as a statesman, as recently stated by the Nigeria's Senate President.
That Babaginda and Obasanjo both crossed the line of decency is not in question. But for how long has these two leaders trampled on the decency of millions of Nigerians whose lives have been forever altered due to their leadership failure?
The pains and trauma suffered by families of hundreds of colleges and university students from the 70's to the 90's in the hands of the State still remain fresh, talk of hundreds of military personnel killed in plane crash in the outskirt of Lagos, cases of murdered journalists, politicians, technocrats and so on. We may never know the truth that surrounds many of these terrifying cases and sad events in our national life. The list goes on and beyond social-political realm, but includes years of failed economy policies under their watch.
Beyond sensationalized media brawl that adds little substance to what Nigerians are most interested to know about (how we get to where we are today), I challenge both former president to open up on issues that matters not only to each other, but to Nigeria as well. Nigerians are looking forward to revelations on how the life of 150millions  people continued to be juggled within their various dungeons of power.
———————————————————————————————————————————————-
* Article written by  Yemi Ifegbuyi, NAL's executive editor and director of public diplomacy
———————————————————————————————————————————————-