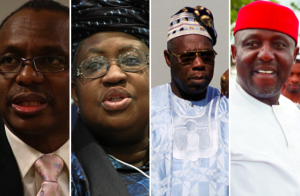 By Yemi Ifegbuyi
CALL it gossip, "Beer parlour talk" or outright fabrications, as politicians indicted in the leaked U.S. Diplomatic Cables would like Nigerians to believe, the Wikileaks Revelations, if nothing else, is an open book into governance affairs in Africa's most diverse country.
Most important, they are revelations coming from a source that arguably knows more about the Nigerian State than many Nigerians themselves.
To set the record straight. Wikileaks, a whistle blowing non-governmental organization, has nothing to do with earth-shattering scandals contained in the diplomatic cables, other than publishing the leaked materials.  This clarification has become important to state, given some politicians attempts to disrepute the leaked cables.
Second, in all the diplomatic reports as published by Wikileaks, American diplomatic officials endeavour to differentiate between reports that are put together simply based on informants narration — that could be highly subjective — compare to that based on first hand narrations and contacts.
Nigeria has the biggest value of  the leaked cables in Africa. Almost 4,000 cables originated from the Abuja Embassy - not including those from Lagos and Kaduna consulates - according Wikileaks. This single fact suggest how deeply involved the American government is when it comes to Nigeria's internal affairs.
One major explanation for such depth level of relationship between Nigeria and the U.S. is their mutual economic interests and strategic status on global level - with crude oil as the most important attracting force.
The U.S. dominant influence in Nigeria's political and economic realms could be traced to the period of 1979 -1983 — refers to as the second republic in Nigeria's political circuit -, when Nigeria abandoned British parliamentary for an American-style presidential system. The change in system of government, initiated by the then military regime of Rtd. Gen. Olusegun Obasanjo, was shaped by policy makers attempt to cleanse the nation of its colonial past, encourage the Pan-African movement and strongly opposed continued British colonization of Southern African countries, notably Zimbabwe and South Africa.
Fast forward to the 2000s, the U.S. continues to play the role of a big brother in Nigeria's nascent democracy, even though that role is now being threatened by China's rise and sprawling influence.  However, for few more years to come, the U.S. will still take the glory of influencing issues within Nigeria's sovereignty being its biggest trading partner in sub-Sahara Africa.
I pathetically view the Wikileaks Revelations as Nigeria's 'commandments from God', as given to the people of Israel during their many decades of wandering in the desert. The commandments were meant to open the eyes of the Israelites to their woes and to give them the understanding of what needs to be done to build the kind of nation they desire.
This analogy best fit the Wikileaks publication considering that the 'only language' many Nigerians effectively understood must carry with it some forms of religious connotations.
The series of revelations contained in the leaked U.S diplomatic cables about Nigerian government officials inner dealings, deceit, and manipulation of the system could be describe as confirmation of the masses long held beliefs about their government and the political class total disregard for their well-being.
At the perils of the political class, information contained in the leaked diplomatic cables are catalysts for a civil uprising that many see as long overdue. The ruling elites would as usual shrub off any idea of the masses rising up for good governance and openly pretend that all is well between the people and the government.
Former President, Olusegun Obasanjo, Nigeria's Finance Minister and former World Bank Director, Ngozi Okonjo Iweala, former Federal Capital (Abuja) Minister, Nasir el-Rufai, Femi Fani-Kayode and incumbent governor of Imo State, Rochas Okorocha are few of many other politicians and technocrats that have been indicted over various issues that should be of great concern to Nigerians.
One after the other, some have summon courage to flatly deny and reject reports of American diplomatic officials over their alleged corrupt practices and systemic abuse of office, while in government.
What these individuals have failed to ask themselves or provide answers to are: Why would American officials be interested in fabricating reputation shattering reports against Nigerian officials to be presented to their home government? How would such false stories have helped American bureaucrats to put together their foreign policy on Nigeria?
These are questions that I may not be able to provide logical answers to, except for those indicted in the top secret document.
Certainly, the argument of these group of politicians and administrators do not resonate with the masses. For the logical minds, it is near impossible for the American officials to orchestrate lies against these groups of politicians and technocrats, even where one tries to reason with the notion of 'there are two sides to every story.'
There is every reason for the Nigerian political elite to be concern about impending national crisis that might consumed the nation simply because of their failure to do what is right for the majority as oppose to taking care of their own special interests.
More than anytime in the history of Nigeria, the conditions are ripe for an unprecedented revolt against the country's ruling class.
Severe nation crisis — insecurity, overwhelming youth unemployment, increased dissatisfaction with political leadership -, access to information and communication with the social media as an effective rebellious tool, and a profound zeal for drastic change among the country's youth are all credible pointers to a looming revolt against the country's political status quo.
Nigerians may never get to know the truths embedded in the U.S diplomatic wire considering the reluctant of both the Nigerian legislature and executive to open enquiries on damaging reports so far made public by Wikileaks.
What Wikileaks, however, has given to the Nigerian masses, especially the nation's growing savvy youth is an arsenal of information and inspiration to vehemently satisfy their appetite for political change and government reform. It's an epic revelation of how truly broken the Nigerian system is.
Wikileaks quoted what it called "basic philosophy of the American revolution" as the inspiration behind its anti-secrecy activities.
"Knowledge will forever govern ignorance; and a people who mean to be their own governors must arm themselves with the power which knowledge gives."
The same philosophy keenly fits into what the leaked diplomatic cables means for Nigeria and its timing population.
The knowledge contained in the leaked diplomatic materials will continued to shape the Nigerian political landscape in a manner that is currently not obvious to everyone.
The Nigerian State is broken and it requires an urgent attention. Those who are well position to know this do know about it, but will never proclaim this in the public.
The fear, however, is that to fix the Nigerian broken system and structure may not come in the way the nation' s politicians and technocrats would have anticipate it. What is important to note is that It is not too late to cleanse the rotten system and make hard decisions that could mitigate the inevitable.
Yemi Ifegbuyi is a senior editorialist and director of operations for SBG media, publisher of nigeriansbaroadlive.com. He is also a strategic communications consultant on politics and business development, with special interest in North-America, Asia and sub-Sahara Africa. Follow him on Twitter: @tweetyemi

———————————————————————————————————————————————-

———————————————————————————————————————————————-