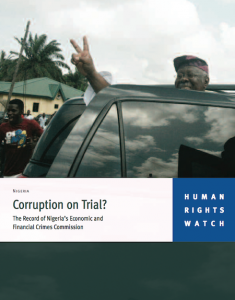 AFP - Nigeria's main anti-corruption agency has been hobbled by incompetence, internal graft allegations and suspicions of political interference, according to a report by Human Rights Watch released Thursday.
The report examining the work of the country's Economic and Financial Crimes Commission (EFCC) paints a bleak picture when it comes to prosecuting high-profile politicians in one of the world's most graft-ridden nations.
It says the commission has only managed four convictions of nationally prominent political figures since it was established in December 2002, and those convicted have faced little or no prison time.
"Other senior political figures who have been widely implicated in corruption have not been prosecuted," the report says.
"Despite its promise, the EFCC has fallen far short of its potential and eight years after its inception is left with a battered reputation and an uncertain record of accomplishment."
The US-based rights group also points out that the commission faces enormous obstacles in carrying out its work in Nigeria, where corruption is deeply rooted and part of everyday life in all levels of society.
"At a fundamental level, Nigeria?s political system continues to reward rather than punish corruption," it says of Africa's most populous nation and the continent's largest oil producer.
It restates the claim by former EFCC chairman Nuhu Ribadu that more than $380 billion was lost to graft and mismanagement from independence in 1960 to the end of military rule in 1999.
The report makes reference to graft allegations against the EFCC under the current chairwoman, Farida Waziri, as well as the widespread perception that she has been ineffective.
It says it could find no concrete evidence of corruption, but calls for President Goodluck Jonathan's administration to examine Waziri's performance.
Reacting to the report, EFCC spokesman Femi Babafemi said its finding that the commission has secured only four convictions of high-profile political figures was too narrow.
He argued that certain convictions of business people as well as heads of state agencies should also qualify as high-profile, pointing in particular to Oceanic Bank ex-chief Cecilia Ibru.
Ibru, from one of the country's most prominent families, was sentenced to six months in prison last year and ordered to forfeit funds and assets worth some 1.2 billion dollars.
Babafemi declined to comment in detail on the internal graft allegations, saying they were rumours with no proof.
"Some of these allegations are made by people who are either being investigated by the commission or made by people who have one grievance or another against the commission," he told AFP.
———————————————————————————————————————————————-