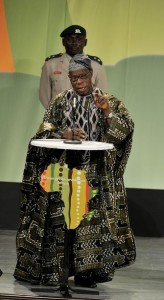 Former President Olusegun Obasanjo on Friday in Accra asked African leaders to set the target of 2025 for achieving "Green Revolution in Africa.''
Speaking at a session to celebrate the achievements of Norman Borlaug, "the father of Green Revolution", Obasanjo said it had become crucial for African agriculture to be transformed.
The special session was organised by Alliance for Green Revolution (AGRA) which is holding its annual conference in the Ghanaian capital, reports a correspondent of the News Agency of Nigeria (NAN) at the conference.
"Let us set a target of five years. By 2025, the continent must have attained Green Revolution but the action and time must be devoid of African time syndrome, because with African time, it will be a mirage,'' Obasanjo said.
He stated that Africa must double its production before 2050 to avoid starvation on the continent, following an anticipated increase of the continent's population to 1.8 billion and a decline in food production per capita.
He said Africa must be prepared with strong political will and determination to succeed to fight the battle and "make the dream of Norman Borlaug comes to reality".
Obasanjo, who also launched the `Operation Feed the Nation' revolution when he was a military Head of State in Nigeria in the 70s, noted that Borlaug had dedicated his life to improving agricultural production particularly working with peasants.
"All in his life, he helped apply various methods of increasing food production in Asia and Africa to attain "Green Revolution,'' NAN quotes him as saying.
The former President, also a successful farmer,  noted that there was a big potential for agriculture in Africa and that could only be achieved through a Green Revolution.
He, however, stressed that Africa must develop its own technologies, improve crop varieties and other  essential components to achieve its own green revolution.
Noman Borlaug was an American agronomist and "Nobel Laureate,  who committed his life to improving agricultural production in developing countries, earning himself the nickname of  "The Father of Green Revolution''
-NAN