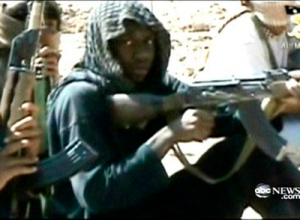 The video, obtained and broadcast Monday by "ABC World News," shows  Abdulmutallab,  23-year-old firing weapons and speaking in Arabic about his impending attack. He is shown reading from the Quran and saying, "God said those who punish you must be punished."
A US intelligence official said Monday that the preliminary judgment is that it is Abdulmutallab in the video and the footage is consistent with the understanding that he was in training. It is not clear where and when the video was made. The official spoke on condition of anonymity to discuss sensitive matters.
According to ABC News, the video was produced by al-Qaida in the Arabian Peninsula, or AQAP. Abdulmutallab and others are shows firing at targets, including a Jewish star and one labeled "UN."
Abdulmutallab is accused of trying to use a bomb hidden in his underwear to bring down a Detroit-bound airliner on Christmas Day. The explosives failed, though they burned Abdulmutallab, who was arrested.
He was arrested and has been cooperating with investigators, discussing his contacts in Yemen and providing intelligence in multiple terrorism investigations, according to US officials.