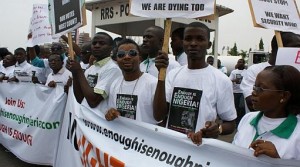 Tech-savvy young Nigerians are gearing up to use BlackBerries, mobile phones and social networking services such as Twitter and Facebook to monitor polls in January, in an effort to stamp out electoral fraud.
Previous polls in Africa's most populous nation have been so marred by ballot-stuffing and voter intimidation that election observers deemed them not to be credible. This time around, new technology could make some forms of rigging more difficult.
President Goodluck Jonathan, who has yet to declare whether he will stand in the polls, has said organizing a credible vote is a top priority, although there is little time left for a badly-needed overhaul of the electoral register.
One group of developers called Wangonet — an acronym for West African Non-Government Organization Network — is working on an application that records information sent by SMS, email or via Internet from mobile phones to plot a map of problem areas.
The Nigerian project was inspired by Ushahidi, a website first developed in Kenya to map post-electoral violence in 2008, and later used around the world including to help emergency teams after the Chile earthquake and floods in Pakistan.
The platform uses "crowdsourcing" — pulling together and organizing data from public users.
"We believe by arming a new generation of Nigerians with social media and networking tools … the 105 million Nigerians under the age of 35 might be motivated to directly engage and interrogate the system," said Wangonet founder Tunji Lardner.
Election rigging has been so widespread in Nigeria that many disillusioned younger voters do not bother going to the polls.
The overwhelming dominance of the ruling People's Democratic Party (PDP) — which holds most of the country's 36 states, a large parliamentary majority, and whose candidate has won every presidential race since the end of military rule a decade ago — means many feel their vote does little to influence the outcome.
HIGH STAKES, HIGH TECH
An electoral roll that was riddled with false names and omitted legitimate voters was among the main problems in the 2007 vote.
At that time Facebook and Twitter had only just been opened to the global public and although Nigeria's mobile phone users already numbered in the tens of millions, mobile Internet and camera phones were still the preserve of the wealthy.
Since then, social networking sites have been heralded as powerful new tools to counter censorship and authoritarianism.
Twitter, which allows people to broadcast short, 140-character text messages over the Internet, became a key form of communication in Iran during the protests and clampdown that followed disputed elections last year.
Nigeria has overtaken South Africa as the continent's top mobile market and the country of 150 million people is estimated to have the largest online audience in Africa.
Enough Is Enough, a civil society group hoping to encourage youths to take an active role in Nigeria's polls, estimates there are more than 1.6 million Facebook users in Nigeria and tens of thousands communicating by BlackBerry Messenger, an instant messaging system the security services struggle to tap.
A poll by the group using its website, email, blogs, Twitter and Facebook, showed 83 percent of respondents planned to vote.
Ushahidi means "testimony" in Swahili, and Lardner and others hope the new technologies can be deployed to provide just that, recording and reporting irregularities on voting day.
"There are some things people cannot see from far, like instances where people are campaigning in the station, or when papers are stuffed into the ballot box," said Onyinye Onyemobi of the CLEEN Foundation, a Nigerian police reform organization.
It is not just activists who have recognized the power of social networking sites and new technology.
Former military ruler Ibrahim Babangida, who plans to contest the polls, has a website providing links to his Facebook and Twitter accounts and allowing BlackBerry users to scan a barcode for updates on his campaign progress. (www.voteibb.org)
If online friends are any measure, Babangida faces an uphill struggle. His Facebook page has just over 10,000 fans, compared to more than 195,000 for President Jonathan.
-Reuters
_______________________________
Get your news stories and articles published on the best platform.  Email:  [email protected] |  [email protected]