A Nigerian-born member of the ruling Civic Platform party, was sworn in Tuesday as Poland's first black parliamentarian in a country where Africans are a tiny minority.
John Godson's election was unusual in a nation of some 38 million, home to only some 4,000 African migrants.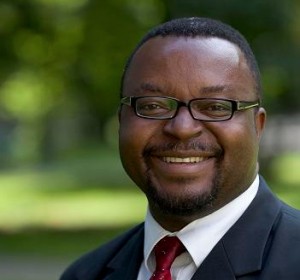 The 40-year-old became a member of the lower house of parliament after a seat became vacant when another party member quit to become the mayor of Lodz, central Poland.
Godson studied agriculture at Nigeria's Abia State University before arriving in Poland as a Protestant missionary in 1993. He was granted citizenship in 2000 and served as a local councillor in Lodz.
'I came for two years, and I've already been here 17 years,' Godson told the daily Wyborcza. 'I travel a lot throughout the world, but I don't feel as good anywhere as I do in Poland.'
Godson has pledged to improve Poland's relations with African nations and to increase the country's access to broadband internet.
Godson was elected to the Lodz city council in 2008 and won a place on the city's municipal council in municipal elections last month.
He is the president of the African Institute, which works to build stronger ties between Africa and Europe.
African immigrants may no longer draw stares in Poland's bigger cities, but they are subjected to racism. African community leaders say too many people shrug off racist comments as harmless jokes.
In June 2009, a priest Tadeusz Rydzyk said to a black missionary during a pilgrimage: 'Look, he hasn't washed at all.'
Foreign Minister Radoslaw Sikorski is on record as having joked to colleagues that US President Barack Obama had a connection to Poland because 'his grandfather ate a Polish missionary.'
-Deutsche Press