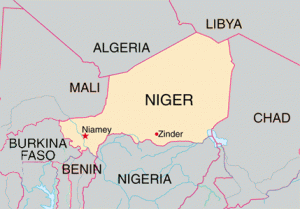 By NAL Staff writer
Major news agencies have reported sighting a large convoy of Libyan armored vehicles in northern Niger desert town of Agadez on Monday. Local sources told news agency reporters that the convoy that contained up to 200 vehicles were that of fighters loyal to Col. Moammar Gadhafi, and escorted by group of Niger Republic Army .
It remains unclear whether Col. Gadhafi himself was among those who crosses Libya's border into Niger.
Reuters reported that according to its French military source, Gadhafi and some  members of its family may head for neighbouring Burkina Faso, which has offered the ousted Libyan ruler asylum.
Meanwhile political analysts have queried how a large  military convoy of pro-Gadhafi's fighters could have crosses into Niger without NATO's knowledge - thereby making argument of possible NATO's brokered arrangement between rebels and Gadhafi fighters.
The revolutionary fighters have for the third time delayed entering town of Bani Walid where Gadhafi and his two sons Saif al-Islam and Mutassim were believed to be hiding.
NAL's director public diplomacy, Yemi Ifegbuyi says news of pro-Gadhafi fighters  crossing into Niger is of "eminent security concerns" for Nigeria.
"Gadhafi taking shelter in either Niger or Burkina-faso is not a good news for the Government of Nigeria. Considering the current state of insecurity in northern regions of Nigeria and proven external influences in recents attack in parts of the country, this is an added layer of security concern for the federal government. There is every reason for Nigeria to be alarmed."
Both Nigeria and Niger shares common border, which is consider to be pourous and has been identified major route for Islamic militias that have terrorized communities in parts of northern Nigeria including the capital Abuja.
In the past, Gadhafi's regime was notorious for interfering internal affairs of numbers of African countries. He was believed to have sponsored rebels insurgent in Liberia, Sierra-Leone, Guinea and Niger.  In March 2010, Gadhafi angered the Nigerian government when he called for the country to be divided along ethnic lines.
Nigeria is one of few African countries that have endorsed Libya's National Transition Council made up of rebels turned revolutionaries.
———————————————————————————————————————————————-