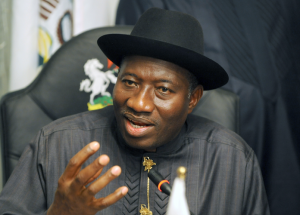 By Yemi Ifegbuyi
JUST over a year ago, and few weeks into the assumption of office by Nigeria's president, Goodluck Jonathan, I had the opportunity to discussed the prospect of the new president with a senior American technocrat on U.S-Africa trade relations. He was quick to mentioned to me that the American government sees hope for Nigeria than any time since 1999. His reasons? That Jonathan is educated, young, doesn't belong to league of the country's established order and seemingly genuine to lead structural political and economic reform needed to guide the country into the future. Most important, that America finds very little damaging about the 'accidental president.'
Well, things have changed since June 2010 when the world was introduced to Jonathan at the G8 and G20 summit held in Canada. The once 'accidental president' is now in full control of his own destiny with the sensitive Nigerian masses.  What however remains unchanged are the daily struggles of most Nigerians to provide for themselves under strict conditions — poor healthcare service, death trap infrastructures, hiking food prices, violation of rights, insecurity, lack of electricity and fear of the unknown to mentioned few.
At the slightest opportunity, the soft spoken and often misrepresented president always endeavour to reinforced his promises to lay the foundation for a new Nigeria. Notably on few occasions, he has unveiled specific plans often tagged as 'road map' to tackle some of the nations' endermic problems such as electricity. In a country as complex as Nigeria, such an ambition is swiftly tagged as 'Mission Impossible' by Nigerians themselves, many of whom have sworn never to take their elected politicians words with a pinch of seriousness.
"I assure you of fresh air in Nigeria - Vote For Me." That was one of President Jonathan many promises — as printed on iconic campaign banners usually visible at many of the president's election earlier in the year.  Although It is just about a month into Jonathan presidency and barely has he put together his working team. But the pace of events in Africa's biggest population are indications that the country is coming of age and that mode governance cannot afford to take the back seat nor struggle to function.
For the president's hardline supporters, it's too early to call a judgement on the president; for his unrepentant critics, things aren't starting well and it's an indication of what awaits the country's democracy. And for political watchers and analysts who understand fully the intricacies of government and governance, the president should be well advised that his window of opportunity to set into motion, legacy of renewal and measurable growth and development is fast closing in.
I am one of those who strongly believe that President Jonathan falls short of the kind of leader that Nigeria deserves at this moment. It is my opinion that the country missed another opportunity to move itself in a newer direction during the April poll. While the president may be seen as  fairly a different breed compare to the established order as noted by my American friend, he however lacks the political character and visionary doggedness to tackle Nigeria's peculiar challenges. Fortunate for the President and while a surprise will be highly welcomed, moderate Nigerians , including many of his diehard supporters don't expect him to deliver any miracle overnight.
The next 3 - 6 months will be crucial for the Jonathan administration to take visible and concrete steps that will determine success or failure of his regime, which is respectably unlikely to lapse beyond 2015. Consequently, the first rule for the President is to see his mandate as just 3 years and few months and therefore approach the business of governance like a time-conscious surgeon with a mission to successfully operate on an endangered patient that is too valued to let die. This way President Jonathan desire for his name to be qualified as a reformer can be realised.
While the president success will be largely determined by his own ability to learn fast,  lead and manage resources at his disposal, having proven and tactical politicians and technocrats in his executive team will go a long way to cushion what the president lacks in the realm of leadership. Unfortunately, the process of selecting such credible personalities is now being tainted by usual rent seeking politics that oblige the president to satisfy the interests of various ethno-political backers that paved the way for his election victory; It is no longer about putting in-place technocrats, administrators and managers that will solely work for the country and its fading populace.
No doubt the president is not a radical reformist, but even with his "Don't over do things" approach to life, as reflected in his leadership style, reassuring confidence, consistency and pursuit of excellence shouldn't be sacrifice for over-cautiousness and wanting to appease everyone, especially the political class that has continually raped the country of its good.
Compare to a decade ago, Nigeria is now 350 billion dollar economy, the fastest growing in the whole of Africa, and a major player in keeping many of the world's industries in operation, courtesy of its abundant crude oil. Over the next decades, Nigeria's global influences is expected to grow significantly as the market open up further and good governance becomes entrenched. As a result, leadership in Africa's biggest country can no longer be left in the hands of mediocre and unassured politicians.
As 2015 crippled in, President Jonathan might want to push his good luck again, even in the face of challenges to come from within and outside of his political terrain. He could however be assured that only convincing performance and not sectional sympathy, as played out in the April presidential election can get him closer to a second term bid. It is within his capability to prove his critics — me included — wrong, rise beyond the threshold set before him and do what is wright for the nation, even in the face of current political impasse.
On a second thought, what about a stable electricity in all states of the federation by May 2014, Mr President? It's a challenge that is doable, and most important, a magic wand for all your wishes thereon.
——-
Yemi Ifegbuyi is a senior editorialist and director of operations for SBG media, publisher of nigeriansbaroadlive.com. He is also a strategic communications consultant on politics and business development, with special interest in North-America, Asia and sub-Sahara Africa. Follow him on Twitter: @tweetyemi
———————————————————————————————————————————————-

———————————————————————————————————————————————-