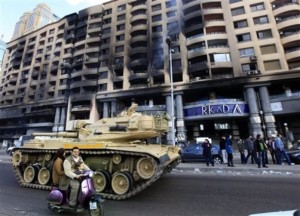 Nigerian President Goodluck Jonathan on Sunday directed National Security Adviser Andrew Azazi and Minister of Foreign Affairs Odein Ajumogobia to immediately evacuate Nigerians trapped at the Egyptian airport in Cairo.
President Jonathan who is currently in Addis Ababa, Ethiopia for the 16th session of the African Union (AU) General Assembly according to his spokesperson, Ima Niboro gave the directive Sunday night when he got the news of the plight of Nigerians in Egypt.
The Nigerian leader said both Azazi and Ajumogobia (who is also in Addis Ababa) must coordinate the mission and return the trapped Nigerians home to their families and loved ones.
About 200 Nigerian including students, businessmen, government officials, and others on medical visits are said to be stranded at Cairo's International Airport due to the turmoil in that country.
According to findings, they are said to have been at the airport for days with no access to call home as Egyptian authorities had blocked mobile services as well as access to internet.
While Egypt air flights to Europe, Arabian cities and others are still operating, same cannot be said of flights to African cities including Lagos, Kano, Accra, Nairobi and Entebbe.
Egypt has cancelled flights to African cities without any excuse thereby subjecting Nigerians to harsh conditions.
Egyptians have been in turmoil for nearly a week, with hundreds of thousands protesting the continued stay in office of President Hosni Mubarak.
He has been in power for 30 years and the protesters have insisted that he must go beforean end to the crisis in the country.
- Xinhua