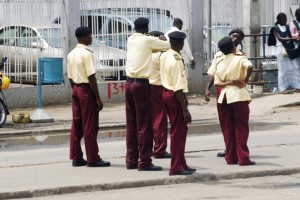 By Augustine Akhilomen
Unarguably one of Nigeria's most exciting, fabulous, socio-cultural and vibrant cities, Lagos State stands to be the very best. Without mincing words, Lagos State has proven to be the center of excellence where different tribes, religion and languages congregate together under the same umbrella of unity, love, harmony and peace since her creation.
Besides, her population of seventeen million is an indication of her capacity to accommodate Nigerians within and in Diaspora without leaving behind foreigners, who also come to share from the serene atmosphere, mineral and natural richness endowed to us by Almighty God.
The administrative impact in ensuring that Lagos State becomes a center of attraction globally through the State Governments efforts towards making it a mega city is another innovative and inventive programme meant to create an open
ground for all and sundry irrespective of your race and background.
However, a city that was thought to be a land where milk and honeys flows, is gradually becoming a pain in the neck for some Lagosians, as they can hardly go about their normal business without being accosted by either the LASTMA or some illegal Lagos State Task Force officials over laws that the constitution don't even recognize.
To be frank, LASTMA constitutes the major problem affecting Lagos State, based on the fact that they have gone beyond exercising their primary responsibilities of managing traffic into law enforcement. They have made it a money-making venture where instead of directing, controlling and monitoring the flow of traffic, they delve into arresting violators of traffic rules by accident or incident thus unsuspecting people are forced into paying some money before they release such vehicles.
Then I ask, what are the primary duties of LASTMA and the traffic warders in Lagos State?
By all standards, LASTMA, though under the guidance of Lagos State Government does not have right to prosecute motorists directly or indirectly. By so doing, they have made life difficult for the motorists most especially the commercial
motorists who always fall victim in their hands.
Additionally, the Lagos State Task Force officials though have duly discharged their responsibilities judiciously, by way of ensuring that our environment is devoid of street hawking and littering of waste products on our roads is one major landmark for them. However, the extent of their improper conduct in the society is gradually overshadowing their good deeds. The task force official now issues tickets ranging from N50-N100 to anyone hawking on the street or in market places is unjust and unacceptable.
Are all these supposed to be our major priorities when on a very good day there are hide-outs where miscreants have turned into a reserved ground for committing evil deeds?
By and large, I beckon on Lagos State Governor, Babatunde Raji Fashola to come out and address this issue before it becomes a pain on his neck.