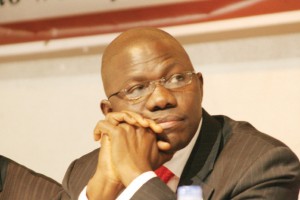 Nigeria's state petroleum firm has been labeled insolvent, raising new questions Wednesday over the oil-rich country's squandered resources and what role corruption played in the company's fate.
The firm's woes have also thrown a spotlight on its complex relationship with the government, which forces the company to keep petrol prices low but has simultaneously held back subsidy payments.
The controversy has played out against the backdrop of an approaching election season, with a presidential vote set for early next year in the OPEC member, the world's eighth largest oil exporter.
Junior finance minister Remi Babalola said on Tuesday that the Nigerian National Petroleum Corporation (NNPC) is insolvent, with liabilities exceeding assets by 754 billion naira (five billion dollars, 3.9 billion euros).
NNPC disputed the claim, saying the government owes it more than six billion dollars in subsidies.
On Wednesday, NNPC spokesman Levi Ajuonuma responded angrily to the minister's statement, saying that labeling the firm insolvent amounts to calling the country bankrupt, because of its reliance on the oil industry.
"Anybody saying NNPC is broke, you are indirectly telling the world that Nigeria is broke, don't do business with Nigeria," he said. "It is a very serious matter. NNPC is not broke. Nigeria is not broke."
Because of the poor state of Nigeria's refineries, the company has to import products from abroad and pay market price. It must then charge a fixed price for petrol, a situation that has created the problem, according to NNPC.
"When you buy high and you have to sell at a fixed price, there is always a difference, and that difference, for almost eight years now, has been building," said Ajuonuma.
The controversy has led to inevitable questions however about what role corruption has played in NNPC's affairs in a country long held back by graft.
"Economically, there is no basis for NNPC to go bankrupt," said Gbenga Martins, an economist and oil industry expert. "Corruption is the bane of NNPC, which has landed it in its current situation."
Cletus Nwogwugwu, an Abuja-based economist and financial consultant, agreed that the NNPC "because it is inefficient and swimming in corruption… does not have a good standing to say that it cannot pay its bills."
But there are also a range of other connected issues, with the government seeking to reform the petroleum industry, the source of an estimated 90 percent of export earnings and 80 percent of government revenues.
A reform bill is currently before the parliament, and the government wants to wean the NNPC off subsidies.
President Goodluck Jonathan, who took over in May after the death of his predecessor Umaru Yar'Adua, recently sacked two top officials of the NNPC and ordered an audit of its accounts.
He has also promised to cut down on corruption and reform the oil sector to make it efficient and profitable — a daunting task given the NNPC's situation.
Meanwhile, Nigeria's inability to capitalise on its oil wealth continues to cause frustration in the country of 150 million people — Africa's most populous nation.
Its four refineries, with a total installed capacity of 445,000 barrels per day, grossly underperform due to corruption and poor maintenance.
As a result, the country faces fuel and electricity shortages, with power outages a daily part of life.
ASSOCIATE FREE PRESS