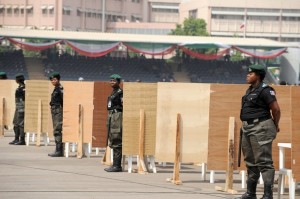 By Nigerians Abroad staff writer
In what would be perhaps the most contested presidential primary in Nigeria since the beginning of democratic era in 1999, about 3,578 delegates of Nigeria's ruling party Peoples Democratic Party, PDP, will today elect between incumbent president Goodluck Jonathan, former vice-president Atiku Abubakar and veteran politician Mrs. Sarah Jibril, who will represent the party in the April general elections.
Reports show that delegates from Nigeria six geo-political region are already in Abuja, as early as Tuesday night. The breakdown of numbers of delegates per region shows: North-West; 719 delagates, North-Central; 607, North-East: 494, South-West; 622, South-South; 639 and South-East; 497 [source: vanguard].
In the past 24hours, the two main competing camps, that of President Goodluck Jonathan and former Vice-President Atiku Abubakar had intensified their lobbying of delegates to get votes and reassurance. Although 20 of the 27 PDP State governors have publicly pledge their votes and that of their delegation to Jonathan, a last minute change of mind is till possible.
The Goodluck/Sambo campaign team on Wednesday afternoon accused its main rival of plots to bribe delegates by offering them huge sums of money. A team of observers had reported that the Atiku camp met with South-West delegates, mostly from Ekiti and Osun States to lobby for  votes. Ogun State governor and coordinator for  Goodluck/Sambo campaign, South-West, Otunba Gbenga Daniel later spoke with the press and reassured that the region votes is for President Jonathan.
From the Atiku camp, report shows that the former vice-president held an all night meeting with his political strategist that includes former military president, Ibrahim Babaginda at the latter residence in Minna.
The PDP primary election has heightened the level of security alert around the capital with hundreds of security officials deployed to different parts of the city.
Since 1999, the PDP has produced the country's president starting with former retired general, Olusegun Obasanjo (1999-2007) and followed by late president Umaru Musa Ya'Adua (2007-2010). Mr. Ya'Adua was succeeded by his vice, now president, Goodluck Jonathan.
Candidates Resume:
Dr. Goodluck Ebele Jonathan: President, Commander-in-Chief of the Armed Forces of the Federal Republic of Nigeria (Current Position),  Born on November 20,1957 (53), Home State; Bayelsa,  Faith; Christianity, Highest level of education: Ph.D in Zoology, Political Experience; Bayelsa Deputy Governor, 1999-2006 Governor, 2006-2007 Vice-President of Nigeria, 2007-2010 President, 2010-till Present.
Alhaji Atiku Abubakar: Former Vice-President, Federal Republic of Nigeria, Born on November 25, 1964 (64), Home State; Adamawa,  Faith; Islam, Highest level of education: Diploma in Law, Political Experience; Presidential aspirant, 1993 Won governorship election, Adawama State, 1999 Vice-President of Nigeria (1999-2007).